Recipe of the Week: Beer-Braised Brats
COMMENTS

(0)

FILED UNDER: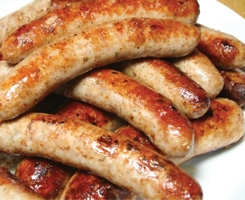 On a cool fall day, there is nothing better than the smell of slow-cooked bratwurst, onions, and beer wafting through your small, musty apartment. It will remind you of the Midwest, where the women are a little heavy, but filled with a rare charm. Maybe that's just me. But no matter where you're from, brats are excellent for "watching the game."
You will need:
Brats (Johnsonville may claim to be excellent, but use these only if your local butcher or Whole Foods doesn't have any other options).
Onions (2-3 for every 4 brats)
1 bottle of beer for every 4 brats (any beer will do, but I developed a taste for Leinenkugel's Red during my undergrad years in Wisconsin).
Some good crusty french bread.
Mustard
1) In a heavy skillet, sear brats until skin is brown on all sides. Slice onions.

2) Lower heat, add onions, and cook until translucent.

3) Add beer and simmer until liquid has cooked off.

4) Continue cooking a little to allow the onions to caramelize.

5) Slice bread and add mustard. Place brat in bread and cover with onions.

6) Consume while "watching the game." Or having a chat. Whatever you want.
A multitude of side dishes are worthy accoutrement to a good brat. Potato salad is a classic choice. Chips are also adequate. No need for greens, because it's the damn weekend.