Q&A with the Résumé Girl
COMMENTS

(0)

FILED UNDER: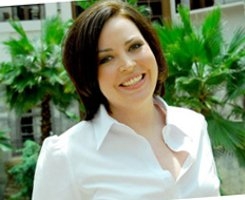 What is the best job-hunting advice you've ever given?
The best advice, which enables you to network anytime, anywhere, is "get carded." What do I mean? Well, you know every professional needs business cards to build relationships and develop their personal network. But what if you're still in college, or just starting out? Why can't you have some kind of card, too?
You can, and you should. I call them Personal Networking Cards, and you can get them on my website. They're like business cards, only for college students and recent graduates. It's the perfect way to present yourself as a professional even though you're still looking for a job.
I found out—the hard way—why these cards are so crucial to your job search. During my senior year at Duke, I was on a flight from San José to Austin, and I found myself sitting next to the Vice President of Mergers & Acquisitions at Google. I got up the confidence to introduce myself, and we ended up having a great talk.
When we landed, he said, "I really enjoyed talking with you and would like to keep in touch—do you have a card?"
Um, no. Of course I didn't have a card! I was only a senior in college! So, I wrote down my name and number on one of those square airline napkins and never heard from him again. And I don't blame him — I wouldn't have contacted me either!
The moral of the story: you just never know when opportunity's going to knock. You have to be prepared.
Say I'm applying to 30 jobs. Does that mean I have to write 30 different cover letters? That sounds like a full-time job in itself!
Nope, you definitely don't have to write a brand-new letter for each application. You should, though, spend a lot of time writing one great cover letter—and then tweaking it to suit each particular job you're applying for.
Those tweaks, for the most part, will be as simple as changing the company name and job title on each. But you should also include a line or two about why you're interested—or particularly well-qualified—for that job or that company. Find a way to customize your letter, however briefly, so the employer has a way to distinguish you from all the other candidates.
Depending on your job search and goals, you might craft three different cover letters for each area of interest. For example: let's say you're going to graduate soon with a degree in Communications. And you'll be applying for jobs in the areas of marketing, public relations and corporate communications.
While similar, these three areas require slightly different qualifications and experience. So take the time to craft one letter for each area, and then make the same tweaks we talked about earlier for each individual job application. (Oh, and be sure to proofread each cover letter at least twice. Spell-check is never enough!)
I know it sounds like a lot of work upfront—and it is—but trust me, it will make your search go much more quickly and smoothly. You'll save tons of time in the long run.
Any other words of advice for recent grads?
Oh, yes. Remember this: your first job does not have to be your last job. By that, I mean don't put so much pressure on yourself! Even though you've worked so hard in school to get your dream job, it may not happen right away. And that's totally, 100% fine. It can even be a good thing!
So what if that first job doesn't come with the title you always hoped for. What if it gives you all the experience you need to reach that position in a couple years? The people you meet there, and the things you achieve, could easily open the door to your dream job.
And guess what? You're young. You have plenty of time to accomplish all your career goals. Take time in these early years to discover exactly what you like and don't like about your chosen career.
For me, that exploration experience led to real career satisfaction. I absolutely love my job — and it's not at all what I set out to do in college!
About the Résumé Girl
The Résumé Girl, aka Lauren Hasson, helps college students and recent graduates all over the country land their dream job or internship. If you're setting out on your first big job or internship search, The Résumé Girl can not only write your résumé for you—she'll also give you one-on-one interview coaching and tons of real-world advice. Find out more at www.therésumégirl.com.