Q&A with Marc Scheer
COMMENTS

(0)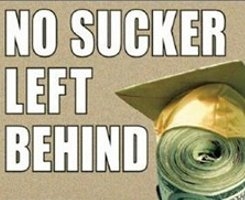 Did you know that students expect to earn 44 percent more than they actually do when they graduate? And that at most college, each class breaks down to $100 per hour? (No use feeling guilty about sleeping through most of them now!)
In No Sucker Left Behind: Avoiding the Great College Rip-Off, Marc Scheer offers an illuminating investigation of the exorbitant fees charged by universities, forcing us to question the assumption that every college experience is worthwhile. We caught up with Marc to chat about dealing with student debt, going to grad school, and becoming "financially literate."
Clearly, the main thesis of this book is that universities are run just like just other for-profit businesses and students may not always be getting the best bang for their buck. So what can you about it if you've already left school? What is the one piece of advice you'd impart to recent graduates?
If you've already left school, your options are somewhat limited. Now you have to figure out how to re-pay your debt. I advise people to become familiar with all of their options, including "loan forgiveness," "loan consolidation," "extended repayment," "graduated repayment," "deferment," "forbearance," and "refinancing." People who struggle with their debt should also not hesitate to reach out for help to resources like: their schools, their lenders and credit card companies, the Federal Student Aid Ombudsman, a lawyer or legal counselor, an accountant, the National Association for Credit Counseling, and the Association of Independent Consumer Credit Counseling. One specific option is to see if your loans can be consolidated into a "Direct Loan" managed by the US government; direct loans tend to have the best terms. New grads also need to manage their debt properly, and not depend on credit cards because these cards are expensive and companies may soon reduce credit limits. Grads also need to get in the habit of paying their debt bills on time, otherwise their credit scores can be harmed, and it can become more difficult for them to obtain financial assistance in the future.
Student debt is the unfriendly reminder of those exorbitant tuition fees from college. How has the consolidation market changed in light of the credit crunch and what major traps should recent grads look out for?
Private lenders are leaving the student loan market in droves. This is making it more difficult to get private student loans, and more difficult to get private consolidation loans. The good news is that the US government is offering consolidation loans within their Direct Loan program. But many student loan lenders are blocking their borrowers from converting their loans into a government consolidation! So the whole situation is a mess, and grads need to explore all of their options.
You talk about the "scam" of debt and credit counselors. Can you explain that?
Everywhere you go these days, you see ads for "credit counseling companies." These are organizations that say they can help you lower your debt or work out affordable payment plans with your lenders. Some of these groups can be very helpful. However, a large number of them are scams. In fact, the government recently identified some groups that swindled Americans out of $100 million. The problem is that the bad ones charge high fees and deliver no benefits. Before working with an organization like that, you need to do your homework. Check with the Better Business Bureau. Watch out for groups that charge more than $25–$50 in monthly fees. If a credit organization sounds too good to be true, it probably is. Instead, you can find trustworthy help from the National Foundation for Credit Counseling and the Association of Independent Consumer Credit Counseling Agencies.