Potluck Portables: Creamed Corn Crostini
COMMENTS

(0)

FILED UNDER: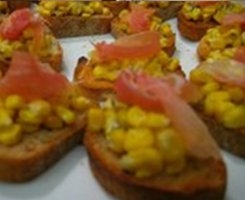 Potluck Portables (noun): Easy portable side dishes that can be made the night before, served at room temperature, and are versatile enough to complement any surrounding dish at a potluck buffet.
I originally made this dish for a Holiday potluck. Inspired by my friend's mother's warm corn pudding the week prior, I decided to adapt another corn classic into appetizer form for an upcoming party. The resulting dish put a holiday spin on some late-summertime flavors: corn chowder sopped up by a piece of rustic, crusty bread. The addition of sage and the light top note of cured meat made this dish all the more hearty, comforting, and complimentary to wintertime cheer. But to bring this dish back to summer, just substitute fresh basil for the sage. To serve, simply reheat the corn mixture in your friend's microwave, top your baguettes, and set down beside your friend's other creations, no matter what season.
What You Need:
* 1 French baguette (best if a day old)
* 2 tablespoon unsalted butter
* 3 garlic cloves, minced
* 8 sage leaves, minced or ½ cup fresh basil
* 2 15oz cans corn, rinsed. If in season, use 5 ears of fresh corn, kernels removed
* 1/2 cup half and half
* 1/2 pound prosciutto, thinly sliced
* Salt
How To Cook:
In a medium saucepan or skillet, melt the butter over medium heat until it begins to brown. Add the garlic and the sage and cook until fragrant, being careful not to burn the garlic, about 1 to 2 minutes. Add the corn and half and half. Simmer gently until the half and half has thickened and reduced by at least (yes, you guessed it) half. The corn mixture should be thinner than chowder and have just enough liquid left to coat the kernels.
Slice the baguette and arrange on a cookie sheet. Drizzle with a touch of olive oil and place under the broiler to toast. Remove the bread when it is a light golden brown, and very crisp around the edges. I tend to toast the bread more so for this recipe than for other bruschetta or crostini concoctions due to the wet, creamy consistency of the corn.
If traveling, reheat the corn in the microwave, and then spoon it onto the bread, being careful not to soak it with the remaining cream sauce. With your hands, shred the prosciutto into small, rustic strips and garnish the top of each slice.
For the story behind this recipe, visit Big Girls, Small Kitchen.