Potluck Portables: Bittersweet Chocolate Bark with Pretzels and Toffee
COMMENTS

(0)

FILED UNDER: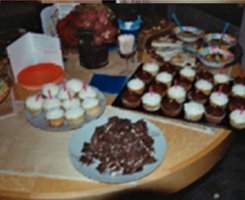 Potluck Portables (noun): Easy portable side dishes that can be made the night before, served at room temperature, and are versatile enough to complement any surrounding dish at a potluck buffet.
Chocolate bark might have the most inflated compliment-to-difficulty ratio of any dish in my repertoire. It can be prepared in the time it takes to melt and re-harden chocolate, it transforms even mediocre ingredients into a nuanced tasting final product, and it uses virtually no equipment. Best of all, people love it in all its incarnations.
Making this dish kept me remarkably sane when I moved into a kitchen-less dorm freshman year. I missed preparing food so much that I whipped up batches and batches of it in a college-issued microwave set up in (yes, gross) our suite's bathroom—just to be "cooking". It's been my last minute party staple ever because, like any candy, it can be easily tossed in a tin with only the risk of consumption before arrival.
What You Need:
* 1/2 bag of semi-sweet chocolate chips
* 1/2 bag of milk chocolate chips
* 2 cups of thin, salted pretzels
* 1 cup of heath bar pieces
How to Cook:
Spread foil, wax paper, or parchment on a cookie sheet. Clear a spot in your freezer where the sheet can lay virtually flat.
Crush the pretzels in a sealed baggy with a wooden spoon or other non-breakable object. Pieces should be in the range of 1?4 inch. Don't pulverize, but don't leave the pieces too big.
Melt the chocolate together in the microwave in a glass or plastic microwave-safe dish until they are close to melted. Don't let the chocolate bubble—stirring it when you take it out will melt those last pieces.
Add the pretzels and heath bar to the chocolate mix, stirring to coat. Spread the mixture on the prepared pan thinly, so there are no spots showing and it's as even as a pretzel-loaded concoction can be. Freeze for an hour, until the chocolate is set. Break into uneven, two-bite sized pieces.
Store in a covered container in the fridge or freezer.
A little something extra: If you feel like getting fancy, you can make swirls of milk or white chocolate on top of the bark. After you've frozen it but before you break it up, melt another cup or so of a contrasting chocolate in the microwave. Dip a fork into the melted chocolate, and flick your wrist as you drizzle it atop the surface. Freeze for another half hour, until set, and break as above.
For the story behind this recipe, visit Big Girls, Small Kitchen.