Orzo: The Forgotten Pasta
COMMENTS

(1)

FILED UNDER: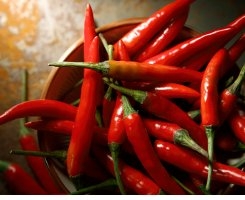 Orzo, that little football shaped pasta, is an oft-forgotten semolina. Perhaps it just reminds some people of the larger particles found in rice pilaf, but I suspect it has more to do with minimal creativity on the part of most young cooks when it comes to buying pasta. Orzo, by virtue of size somewhat, is nicely malleable to many dishes.
The other day, I was craving a spicy ground meat dish. The kind that comes out steaming at Thai restaurants in beef or pork form, laden with hot red peppers, lemon grass and other bold flavors. I thought to myself, let me just go crazy a second and toss this mixture with some Orzo! And, let's get even more crazy and use turkey. So I did. The result was filling and good. I added some spinach for good measure. Low and behold, I had a spicy dish I could feel good about.
You need:
* 3/4 ground turkey
* 2 hot red chilies
* Garlic
* Lemon grass
* A dash of olive oil
* 6 oz. fresh spinach
* 3/4 pack orzo
* Lime
How to Make It:
Dice the chilies, garlic, and lemon grass. Season with some salt and pepper. Combine all with the turkey. In a hot pan, crumble the mixture and cook until browned. Set aside.
Boil orzo until al dente. Combine with turkey mixture and fresh spinach. Allow spinach to wilt. Stir all ingredients together. Season with fresh chili, lime, olive oil, and whatever else brings it to your liking. Eat with chopsticks or spoon. Crack a Kirin.