Online Speed Dating
COMMENTS

(0)

FILED UNDER: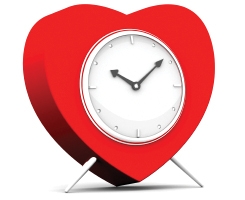 Part of being a grad is either A) working way too hard in the name of "getting ahead," or B) hardly working at all and feeling depressed and reclusive as a result. Both these models of grad behavior can turn dating into a virtual impossibility. Thankfully, SpeedDate.com (as well as WooMe.com) turns dating into "virtual" possibility. All you need is a webcam, an Internet connection, and three minutes.
If you think this sounds le sketchy (that's French for "a bit sad"), you're probably right. But let's be real about things: if you're going to get it cracking online, you might as well forgo the tedious forms and personality tests of other dating sites in favor of a very weird and potentially hilarious experience. Plus, you can keep all your notes safe on your personal computer and avoid misplacing incriminating speed-dating cards that characterize people as "hurting for a squirtin'."
So far, I can't tell if the sample dates on the site are real or staged. They are definitely awkward, but this one girl really rubs me as disingenuous by talking about an alleged "granola bar" without producing it for evidence.
Anyone who keeps tabs on the field of scientific inquiry knows that NBC's "Science of Love" successfully proved that databases like PerfectMatch.com are better at pairing lovers than "human instinct." Still, SpeedDate.com feels sort of like Jay-Z and R. Kelly on the same track—in other words, it seems like the best of both worlds until someone gets hurt.
If nothing else, three minutes is the perfect amount of time to perform your own rendition of the "Crank Dat" dance—a surefire way to find that special Soulja Boy (or Girl).