Ode to a Grecian Dinner
COMMENTS

(0)

FILED UNDER: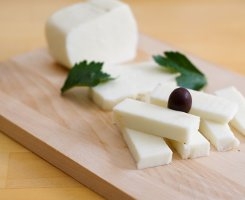 Mediterranean folk know summer foods. Especially those once-powerful-but-now-down-and-out Greeks. On the Island of Cyprus, wickedly smaht Shepherds invented Halloumi. It's a wondrous sheep's and goat's milk cheese tailor-made for the grill and frying pan. With its high melting point, you can get some great charring on a thick slice without ruining the integrity of shape. It's light, ever so salty, and makes a delicious alternative to meat.
One way of serving Halloumi is on a bed of baby spinach, dressed with a harissa-based vinaigrette. We talked harrisa when we discussed lamb sausage sandwiches a few months back. Boom, it's back again. Bookends.
You need:
* 1 package Halloumi
* Spinach
* Harissa
* Olive oil
* Balsamic vinegar
* Garlic
* Salt/pepper
Lightly oil a frying pan with olive oil and brown thick cuts of cheese on both sides. Place on bed of spinach. Dress with the vinaigrette, made by combining 2 tbls. harissa, 2 tbls. Vinegar, and 4 tbls. olive oil. Include one crushed clove of garlic and season with salt and pepper.