Notes from the New Continent
COMMENTS

(0)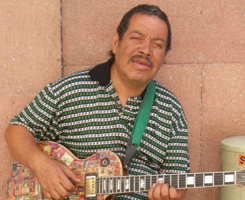 Buenos Dias!
I am feeling good about life in my new city and beginning to settle in. Perched high on the desert plain between two mountain ranges, San Luis Potosi is a city with a population of one million (well, a million and one now). Some residents might bemoan that it is a quiet place with nothing happening but that is far from my experience!
Between teaching all day, preparing lessons, "dominoes night," learning to drive the Vocho, playing the guitar, joining a football team and writing about it all I have more than enough to fill my days!
My flatmate has been living in SLP for 10 years so he has many friends and knows the workings of day-to-day life intimately. He is also fluent in Espanol…did I tell you that I arrived here not knowing a word of Spanish?!
Having told him that I played the guitar he was eager to set me up with some lessons with his friends at the local music school. At the end of my first week we dropped in, Eric had a rapid discussion in Spanish with his friend Male (pronounced like the country; she is the secretary of the school) before turning to me and saying "you've got your first lesson tomorrow dude."
A lesson? Right away?! I swear, I have not felt one nerve throughout the whole process of moving here, but this? This I was nervous about! I was more than happy to wait until I was "good enough" at the guitar and "good enough" at Spanish before taking the plunge...but then, how long is a G-String?!
My one concern during my assimilation was that I would come to depend on Eric too much, but here he was giving me the push I needed. It made no sense whatsoever to come all this way only to be scared of doing anything so I set to it.
It turned out to be a class for complete beginners, I took to the guitarra acoustica well and I had no trouble with the lingo. I am already signed up for the month.
It is great to be back in a musical environment. At home I would spend most of my energy on making music (www.myspace.com/thewize), though it was not until recently that I began to play music. A great friend put a guitar in my hands and taught me to play, and I have vowed not to squander this gift. When relocating and completely flipping one's polarity it is of the utmost importance to be able to continue with life's passions and interests, otherwise there will always be something missing. Luckily for me Eric was well aware of this and he gave me the little push I needed to get me going. Now, if I don' feel like a siesta, I drop into the school for a chat, I am becoming firm friends with the people there and making further plans to perform and record.
I absolutely love the music here in Mexico, it has a pulse to it that really connects with me and there is something wonderful about Spanish in song.
There are plenty of great musicians wandering the streets here, I often pause on my short walk home to sit with my favourite guitarist and write some songs. I am definitely feeling very creative and extremely happy to be branching out into new things.
Goodbye, until next time...
PEACE
Tom Wiseman hails from Oxford—the area, not the University—and is spending the year teaching English in San Luis Potosi, Mexico. His blog, "The Tao of Teaching," appears regularly on Gradspot.com.