Mexican Shepherd's Pie
COMMENTS

(0)

FILED UNDER: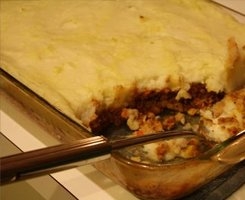 Phoebe the Quarter-Life Cook joins the "Recipe of the Week" team from Big Girls, Small Kitchen, a food and recipe guide for twenty-something cooks looking for user-friendly, affordable ways to navigate their kitchens.
Caitlyn, my roommate, has always been a pro at nourishing her friends' souls—since I'm in charge of nourishing their actual bodies. When manning the kitchen on her own, she often reaches into her arsenal of Midwestern comfort foods, many of which are tried and true dishes from her sister's kitchen in Indiana, and are designed to be healthy yet feed a small militia.
For her friend's birthday dinner, Caitlyn asked me to suggest an easy, inexpensive meal that would feed and fill a crowd of not-so-Midwestern chicks. Since it was around Cinco de Mayo, I decided to stay close to Caitlyn's roots by going Mexican by way of Motown. A little cumin, oregano, and some corn kernels, and my mother's classic shepherd's pie was transformed into a fiesta casserole spicy enough for any New York City tastebud.
What You Need:
For the potato topping:
* 4lb large russet potatoes (about 10, one per person), peeled and cut into quarters
* 1-2 cups Stock or Half and Half (to thin mash)
* 1 tbsp salt (to taste)
For the meat mixture:
*3 1/2 lb ground turkey, chicken, or beef
* 2 medium yellow onions
* 2 carrots, peeled and cubed (fine dice)
* 4 cloves garlic, pushed through a press
* 1 tbsp chili powder
* 1 tsp oregano
* 1 tbsp cumin
* 1/2 tsp cayenne
* 1/2 tbsp salt
* 1 tbsp flour
* 1-2 cups chicken stock
* 1 ½ cups frozen corn
* 2 15oz can fire roasted diced tomatoes
* 1 cup Monterrey Jack cheese (optional)
How to Cook:
Preheat the oven to 350 degrees.
Bring a large pot of water to boil. Add the quartered potatoes and cook until a knife easily slips in and out, but does not cause them to fall apart. Drain or remove with a slotted spoon. Press through a mouli or ricer (or just mash them up with a fork). Thin the potatoes with stock or half and half, whipping them until smooth (or your desired thickness). Taste for seasoning and set aside.
In the meantime, sauté the onion and carrot in a large skillet with 1 tablespoon of olive oil over medium heat until soft. Scrape the vegetables to the sides of the pan, turn the flame to medium-high heat, and toss in the meat. Brown in the center, breaking apart with your spatula as it cooks. Once sufficiently browned, mix together with the veggies. Add the garlic, cumin, chili powder, oregano, salt, and cayenne. Sauté for a minute or two for the heat to awaken the spices, then add the tomatoes and the corn. Cook until the corn is completely defrosted and the tomatoes and their juices have reduced significantly, about 5 to 7 minutes.
Add a heaping tablespoon of flour and stir to coat. Cook for an additional minute before adding a cup of stock. Bring the mixture to boil and simmer for 15 to 20 minutes until the liquids have reduced by half and the sauce has thickened (during this time, add in any additional stock as necessary. You want the sauce just a little thinner than when you finally cut the pie open.)
Put the meat mixture in the bottom of a casserole and cover with the potatoes. Dot the top with melted butter or olive oil, and put the dish into a 350 degree oven for 20-30 minutes, until it begins to brown on top. Remove from oven and sprinkle with cheese. Return to the oven, turn the heat up to broil, and cook for an additional few minutes to brown the top more.
Serve with a side salad, chips, and salsa!