Mexican Dip
COMMENTS

(0)

FILED UNDER: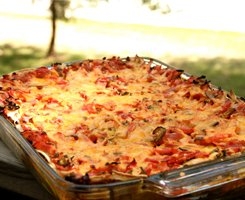 It's NFL playoff season, and y'all know what that means...you've got to feed all your friends on a cheap, hearty, "enjoying the game" type of vibe. When my brother and I were just little shavers our favorite game time (and apres ski) meal was a dish named Mexican Dip. Is it Mexican? No, it simply employs vaguely Mexican ingredients like refried beans and salsa. Is it hearty and delish? You effin bet it is!
What you need:
* 2 cans refried beans
* 1 pound ground turkey (or beef...turkey seems to satisfy the dietary
needs more people though)
* 1 package of taco seasoning
* 1 small onion
* 2 packages of grated "Mexican blend cheese" (Trader Joes is king with this, for the record)
* 1 jar of sliced jalapenos
1 jar of taco sauce
1 jar of your favorite store salsa
What to do:
Preheat oven to 400. Dice onion and cook in a skillet, add turkey, and
then simply follow the instructions on the taco seasoning package. Once cooked, set aside.
In a Pyrex (or other baking) dish, spread out one can of beans. Top
this with half the turkey mix, half the salsa, half the taco sauce, and
half the cheese. Toss in the jalapenos. Cover this with the second can
of beans and repeat the layering. Bake until golden brown on top.
Why do two layers? Why not!? But, really, one does suffice if you are
not a hearty eater or are just mad frugal.
Serve with chips, or even wrap it up in a flour tortilla. Drink either Sprite, lager or tequila slammers.