Mentors: Your Career's Guardian Angels
COMMENTS

(0)

FILED UNDER: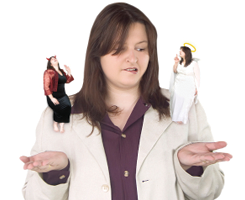 How can career mentors even be compared to guardian angels? Well, I won't get religious on you, but there do seem to be some similarities: both (in theory, at least) look after you and keep your best interests in mind. Mentors can offer you guidance in learning about your new job, navigating transitions at work, and even helping you juggle your professional life with your personal one. They have wisdom to share based on their own experiences, and they can often be your best resource at those moments when you really don't know what the right move is. So listen up, newbies: seek mentors who will be your "professional" guardian angels. No matter how smart you are, there are some places where a voice of experience can be invaluable. Take their advice, learn, and let them help you grow professionally and personally.
How do you find a mentor?
Lots of people are happy to help a young person just beginning his or her career—the trick is to find someone you feel comfortable with and has experience in the industry you're interested in. One strategy is to utilize your company's mentorship or "buddy" program, if it offers one. If not, then consider joining a networking organization in your industry. Also, how about contacting old professors who might know someone in your field? Do your parents or parents' friends know anyone? More than likely, anyone you develop a friendly relationship with—whether or not through work—will gladly dispense advice. It's free, so why not listen, right?
Two mentors are better than one
A mentor doesn't have to work in the same office as you—indeed, it's often better to have a third party you can address freely without stepping into the mire of office politics. That said, sometimes it's useful to have a mentor within the office as well, since every company has its idiosyncrasies, and you may need someone who understands the specifics of your situation. Different people can help you with different aspects of your professional growth, so don't feel you have to limit yourself to one all-encompassing mentor.
Think about what you hope to gain from this mentorship
It's best to ask for your mentor's advice on a particular topic, such as getting your MBA or figuring out how to ask for a raise. Furthermore, the more you share about yourself, the easier it will be for mentors to specifically address your personal goals, interests, motivations, and background. A mentor who really knows you can give the most meaningful advice during times of transition, especially if you are struggling to figure out what it is you really want to do or how you can best grow in the industry you've decided to focus on.
Make it a commitment
Lastly, once you have found your mentor(s), establish a specific time commitment from the onset that you're both willing to make, because without a schedule, you're less likely to have regular contact with each other. So…will you be meeting monthly for coffee? Catching up on the phone every couple weeks? Investing the time and energy into your mentor relationship could potentially have a positive, lifelong effect on your career and your life, so take advantage of those who want to help you—you never know when you'll need a guardian angel.