Let Free Stuff Ring on Election Day
COMMENTS

(0)

FILED UNDER: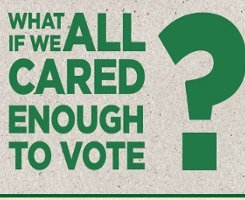 Barack Obama thinks you should take Election Day off, and I couldn't agree more. Somehow America still celebrates "Columbus Day," which has about as much to do with freedom as Guantanamo Bay, yet we can't even give our citizens the opportunity to exercise their most basic right to vote.
Anyway, whether you're working or not, we sincerely hope you'll make it out to the polls. And when you do, celebrate the fruits of freedom with some free stuff. Many local businesses will probably be getting behind what many hope will be an historic voter turnout, but I've been trolling BuzzFeed and doing a little research of my own to compile a list of Election Day Freebies.
So skip out of work, hit the polls, gorge yourself in celebration, and remember…you can vote however you like.