Kick Start Your Job Hunt
COMMENTS

(0)

FILED UNDER: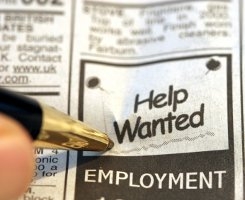 Labor Day weekend is sort of like New Year's for the job-hunting crowd—with their biological clock still set to the "academic calendar" and the word labor setting off all sorts of subconscious alarms, first-time job seekers or those looking to make a change often go full-throttle in the month of September.
Thankfully, our favorite hyper-organized tech-geeks over at Lifehacker offer a pretty comprehensive Guide to Nabbing the Job You Want, including these interesting tips:
Use RSS and email updates to find jobs. One of the worst parts about the job search is trolling through job-listing sites looking at positions that are either terrible or require far more experience than you could possibly have. You can use a combination of RSS creators and email converters to set a customized inflow of job postings and keep everything in one place to make sure you don't miss that rare gem.
Be salary savvy. Salary negotiations are not always necessary or possible for a first gig, but if they are or you just want to know where you can pull the fattest paycheck, it's best to be prepared. Lifehacker points to PayScale, which is a good spot to get general salary ranges for specific position (e.g., magazine editor) in a specific city. Measure up and make sure you're getting what you deserve (or what's "competitive," at least).
Look good in interviews. We agree that spending money to get a job is usually unnecessary, but sometimes you need to shell out a bit to dress appropriately for a job interview. Penelope Trunk has some good tips, including a trick for saving money on suits by hiring a good tailor.
Lifehacker's Guide to Nabbing the Job You Want [via Lifehacker]