Key Lime Pie
COMMENTS

(0)

FILED UNDER: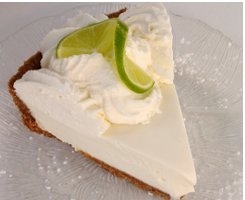 Pies are a good way to impress women and your friends. Conventional wisdom suggests "Pies - bloody hard to make." Not so. Some are actually idiot proof. So much so, even Gritz can make them.
This Key Lime Pie recipe was devised and perfected by rapper Special Opp, of Community League fame. He cut his chops in the kitchen serving up quality fare to members of the Skull and Bones club on their secret island hideaway (true story). His deserts are brilliant, and his key lime pie has fans from Bampton, Oxfordshire to Westerly, RI.
You need:
1 premade gram cracker crust
1 can sweetened condensed milk
2 limes
2 eggs
heavy cream
Preheat oven to 350. While heating, mix the juice of two limes, ample zest, sweetened condensed milk and eggs. Beat until mixture is smooth. Fill pie crust with mixture. Bake until the whole ceases to jiggle - 25 to 30 minutes. Cool. (If you are mad thirsty for pie, cool in freezer). Once cooled top with fresh whipped cream. Enjoy.