Kanye West to Live-Blog Commencement Address at University of Phoenix Online
COMMENTS

(0)

FILED UNDER: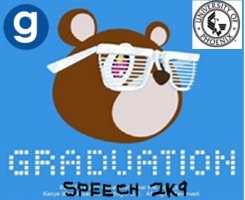 The University of Phoenix Online's graduation ceremony is scheduled for July, but it looks like someone leaked the address to be delivered by this year's commencement blogger: Mr. Kanye West. Read it exclusively on Gradspot.com.
WHAT UP UNIVERSITY OF PHOENIX ONLINE! WOW! "I GUESS THIS IS MY DISSERTATION, HOMEY THIS SH*T IS BASIC, WELCOME TO GRADUATION."
I CAN'T BELIEVE THIS IS LITERALLY GRADUATION, I JUST SAID THAT LINE IN A RAP LYRIC AND NOW IT ACTUALLY MAKES SENSE IN REAL LIFE. THAT NEVER HAPPENS! LOL!
ANYWAY, SORRY TO SPAZ, I'M JUST REALLY EXCITED TO BE HERE. THANK YOU TO THE UNIVERSITY OF PHOENIX ONLINE FOR ASKING ME TO LIVE BLOG THIS COMMENCEMENT CEREMONY. I GUESS Y'ALL KNOW I'M THE KING OF THE NET! LOL! I GOTTA SAY I'M GLAD YOU DIDN'T GET @IAMDIDDY TO COME TWEET IT. TWITTER IS DUMB AND SOME FAKE-ASS YEEZY STAN IS PROBABLY TALKING SH*T AS WE SPEAK. PLUS WE ALREADY KNOW WHAT DIDDY WOULD TELL YOU. "LET'S GO PEOPLE!!!!" HAHA. I'M JUST PLAYING, DIDDY. I LOVE YOU...NO KANYE. I MEAN NO LIL WAYNE. I MEAN...AH, FISH STICKS!
SO, THEY TELL ME THIS IS THE BIGGEST UNIVERSITY IN THE COUNTRY. OVER TWO-HUNDRED THOUSAND STUDENTS OR SOMETHING. I GUESS THAT MAKES ME THE BIGGEST COMMENCEMENT BLOGGER IN THE UNIVERSE?! WHERE YOU AT BARACK? RUMOR HAS IT NOTRE DAME HAS LIKE ONE TWENTIETH AS MANY STUDENTS AS THE UNIVERSITY OF PHOENIX ONLINE. THEY'LL PROBABLY PRODUCE THE SAME NUMBER OF KIDS THOUGH. YOU GUYS SEEM MORE LIKE A YOUPORN.COM CROWD, NO OFFENSE.
SPEAKING OF WHICH, I GOT A QUESTION: HOW DOES THIS SCHOOL WORK ANYWAY? DO YOU GO TO CLASS IN CHAT ROOMS AND READ WIKIPEDIA FOR HOMEWORK? DO YOU GET DISCOUNTS ON FOOD DELIVERY SINCE YOU DON'T HAVE A DINING HALL?? WHATEVER…Y'ALL ARE CRAZY! HOPEFULLY THIS HONORARY DEGREE WILL HELP ME GET INTO PARSONS SO I CAN WORK ON DESIGNING MY LINE OF FUTURISTIC COD PIECES. YOU'LL NEED ONE IF YOU'VE GOT THOSE SPACE ODYSSEY ALIEN BALLS LIKE ME!
SPEAKING OF ALIENS, DOESN'T LIL WAYNE ACTUALLY GO HERE? WHAT UP, WEEZY?! YOU GRADUATING THIS YEAR? YOU MAY HAVE SONNED ME ON MY OWN SONGS, BUT AT LEAST I'M YOU COMMENCEMENT SPEAKER SUCKER!
SOME PEOPLE HAVE SAID IT'S IRONIC FOR ME TO BE ADDRESSING YOU TODAY BECAUSE I DROPPED OUT OF COLLEGE. HI HATERS! IS IT IRONIC FOR BILL GATES TO GIVE A COMMENCEMENT SPEECH? WHAT ABOUT STEVE JOBS? I CAN'T SPEAK BECAUSE I'M A RAP STAR AND NOT A COMPUTER NERD?! WELL PARDON MY FRENCH BUT I'M A FLY GUY! NO ONE ON THE PODIUM HAS SWAGGER LIKE ME, PERIOD.
ANYWAY, I'VE BEEN ASKED TO PROVIDE SOME WORDS OF WISDOM. I'M TEMPTED TO JUST TELL YOU TO LISTEN TO MY ALBUMS, BUT "GRADUATION" WAS PROBABLY THE SOUNDTRACK TO YOUR COLLEGE CAREER ANYWAY, RIGHT? YEAH, I KNOW. I INSPIRE ME TOO!
OK, SO HERE'S SOMETHING YOU WON'T FIND ON MY ALBUM. THINK ABOUT THIS: WHEN WALKING DOWN THE STREET, YOU CAN WALK IN ONE LINE WITHOUT EVER FALLING OVER. NOW TAKE THAT CITY BLOCK, MAKE IT ONE FOOT WIDER AND THEN PUT IT A HUNDRED STORIES HIGH. YOU'RE GOING TO BE SO FOCUSED ON THE FACT THAT YOU DON'T HAVE A BANISTER, THAT YOU"RE MORE LIKELY TO FALL BECAUSE OF IT. WHEN YOU"RE FOCUSED ON WHAT YOU DON'T HAVE…YOU WON'T HAVE!
THAT'S CALLED "THE BANISTER THEORY," AND IT'S NOT ON ANY OF MY ALBUMS. IT'S IN MY BOOK, "THANK YOU AND YOU'RE WELCOME." IT'S IN STORES NOW, AND IT'S A FITTING ENDING TO THIS ADDRESS:
THANK YOU AND YOU'RE WELCOME. I'M SURE THIS ONLY MADE A LITTLE BIT OF SENSE, AND IT PROBABLY MADE YOU FEEL SORT OF ENTERTAINED AND ALSO WONDER IF I AM A HUGE DOUCHE…THAT'S HOW YOU KNOW IT'S ME!
Check out KanYe's blog for more Internet shouting. Note: Like Kanye's twitter account, this speech is purely fictional. But we had you, didn't we?