Join a Gym While Prices Are Low
COMMENTS

(0)

FILED UNDER: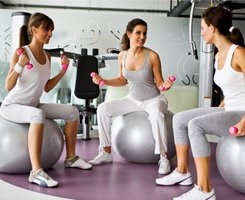 It's the first Monday after New Year's, and every chaunce and his grandma has made a resolution to "get fit." The bad news is, you probably won't actually follow through on your plans to work out more (only joking). The good news is that for once, your motivations are actually aligned with the gym's. According to The LA Times, "Fitness centers are slashing fees for current and new members, and even former members, for 2009." Needless to say, this is going on nationwide as gyms fiend to recruit new members and keep people on board who might be wondering if gym membership is a dispensable monthly expenditure in the recession.
Before you seal a deal, however, make sure you shop around and read the fine print. Many gyms offer a reduced initiation fee, but the monthly payment might still not fit your budget. Make sure you know what you're getting (some offers only offer limited access to the gym's amenities), how you will billed, and whether or not you'll be locked in for a year's membership. Also, if you are already in a year-long contract but are out of work and struggling to keep up with payments, ask your gym to freeze your membership until you are employed.
Finally, be sure to check out our survival guide on Joining a Gym for more tips on vetting your options.
Gyms slash prices [via Consumerist]