"It's Coming Home..."
COMMENTS

(0)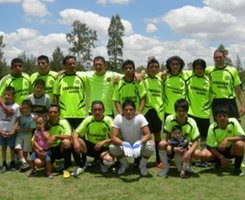 "...It's coming home, it's coming - Football's coming home!"
Coming home? Me?! Oh no, I'm staying here for good (well, for better or worse in these days and times) but the beautiful game keeps it moving.
Back in 2007 I was sitting on a nice redundancy package (thanks Dad!) and wondering what I should do with my life. The short term answer was: sit in my garden reading and ride my bike through the countryside to my friend Tim's house, where Pro Evo and Match of the Day kept us occupied. In an effort to get Tim off of the sofa I bought us a football and we passed many a Saturday afternoon on the Training Ground.
A few weeks into my life as a gentleman I paid a visit to my friend Jonathan who was in France teaching English. At the time I had enough money to travel the world, I could have gone anywhere, but the allure of this idea had faded since it had first taken hold in my late teens. There was something about just visiting places and passing through that no longer appealed to me. I wanted to see the world but then what next? What was my purpose?!
Then I saw Jonny's life in Perigueux and I knew that I wanted that for myself. He had a job, friends, was part of the society and community of the town, and I spent a great afternoon watching him play for the local football team (we also watched AC Milan dominate Man United on the Wednesday night.)
One year later I was in San Luis Potosi, Mexico, on my way to the park...I thought it was going to be a kick around but when I got there my friend Victor handed me a full kit (that disgusting fluorescent Chelsea away uniform) and I joined the team, starting in centre midfield. The midday sun and the 6,000ft altitude nearly killed me but I netted a goal and we won 5-4 on my debut (and, after half an hour, I eventually got my breath back).
Since then football has been a fixture of my weekends just like it was from the ages of 10 to 15 back in the village. Back in those days I got fed up with the atmosphere surrounding the game and was ready to move in a new direction but the spirit here is a reflection of the relaxed and happy society. I love to go to the park, sometimes wearing my Leicester City shirt like a young Gary Lineker while I work on his '86 goal tally and his '09 tan. It is great to be a part of a team and it is another element of a well-rounded life here.
Nearly a year on from that first match and well into our 3rd season, I am still in love with the Beautiful Game (despite some uglier moments). I joined in mid-season and contributed a goal a game as the youngest team in the league went on an improbable cup run that ended in heart-breaking penalty shootout defeat in the final ('cos I'm bloody English!). Along the way we had some thrilling victories, a lot of goals, and a few red cards. I even got my name in El Sol de San Luis, the city paper (well, "Tom Wissaman" did).
Basically, as a product of '82 World Cup fever, I was born to play on this continent (even though my parents decided against naming me "Zico").
Since the fairytale start, things have leveled out and we are currently suffering from a plague of hopeless goalkeepers. But every Sunday I can be found - out of breath and slightly sunburned - running around Tangamanga Park with my teammates.
Tim Wiseman's blog, The Tao of Teaching, appears regularly on Gradspot.