Israeli Couscous and Arugula Salad
COMMENTS

(0)

FILED UNDER: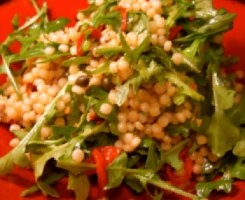 Today's guest recipe comes from Michael Hoffman—philosopher, gentleman, and ace chef. Check out more recipes and mouth-watering pics at CONSUMED(I,THIS).
This is a meal for when your fridge is empty. The only perishable ingredients are arugula and lemon. The other ingredients, such as anchovies, capers, and sun-dried tomatoes, are great things to keep in your pantry. It's also a super versatile dish. If there is anything in your fridge, go ahead and use it. Got some fresh herbs? Chop 'em up and throw 'em in. Olives? Nice. Leftover chicken or vegetables sitting around? Whatever. You can make it vegetarian by leaving out the anchovies, or make it a full meal by opening a can of tuna. (May I recommend the olive-oil packed variety?)
Note: Serves 2-3 as a main course, or 4-6 as a side.
What You Need:
* 2 cups vegetable stock or water
* 1 1/2 cups Israeli couscous
* 1 lemon
* 5-10 sun-dried tomatoes, reconstituted if necessary, then chopped
* 3/4 cup sliced roasted red peppers (from a jar)
* 1 Tbsp capers, rinsed off
* A few anchovies, chopped
* 2 handfuls baby arugula
* Olive oil
* Salt & pepper
* 1 can olive-oil packed tuna (optional)
How to Prepare:
1. Bring the stock or water to a boil in a medium saucepan. Stir in the Israeli couscous. Return to a boil, then turn the heat down to a simmer and cook uncovered for about 10 minutes or until tender, stirring occasionally. (The couscous should absorb all of the liquid.) Put the couscous in a mixing bowl to cool, and stir in a little olive oil so it doesn't get all stuck together.
2. Once the couscous has cooled some, add the zest of the lemon (finely chopped), the sun-dried tomatoes, the red pepper, the capers and the anchovies. Season with salt and pepper to taste. (You could pause now if you wanted and let the ingredients mingle at room temperature for up to two hours.)
3. Just before you want to eat, toss the baby arugula with olive oil, the juice of the lemon, salt, and pepper. Toss the arugula with the other ingredients and serve (with the tuna, if desired).