How Would the Bailout Affect You?
COMMENTS

(0)

FILED UNDER: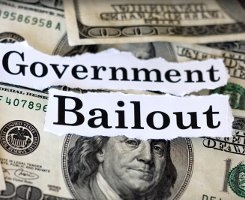 Last night, the Senate endorsed an amended version of the $700 trillion economic bailout plan, putting the pressure on the House to pass it by the end of the week. But how will it affect you, the recent grad? Well, lawmakers have been working to make sure this bailout is not all about "Wall Street," but also "Main Street." So presumably it will, like, eventually trickle down to your street?
Ok, so maybe it's a little confusing. But there are a lot of places where the current economic crisis affects us: student loans are drying up, most industries are in a "hiring freeze," and gas is wildly expensive. And after the bill went through the ringer of the Senate floor, it's come out with more earmarks than an English teacher's copy of The Catcher in the Rye. Put it this way: it started as a three-page document from Secretary of the Treasury Henry Paulson, and now it's 451 pages! Here are a few additions I'm pretty excited about:

Tax credits for bicycle commuters.
Exemption from excise tax for certain wooden arrows designed for use by children.
Increase in limit on cover over of rum excise tax to Puerto Rico and the Virgin Islands.
See, it's not all about Wall Street fat cats! Check out a spirited list of added provisions at Vajoe.com.