How Much Money Do You Waste?
COMMENTS

(0)

FILED UNDER: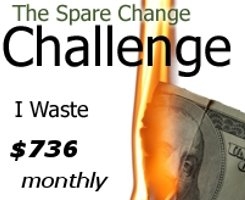 Loyal readers know that we're a broken record when it comes to personal finance: "Saving money is all about getting over the hump of denial. Once you make an honest appraisal of your monthly expenditures, making a few strategic cutbacks ain't nuthin' but a chicken wing."
But we also realize that "self-reflection" is exactly what puts people off the whole idea in the first place. Give yourself that little push toward fiscal awareness by taking The Quicken Spare Challenge, which questions your habits on everything from energy consumption to insurance to food habits (it only takes a few minutes to complete, though). The estimate may come as a slap to the face (and perhaps seem unreasonably high), but maybe it's just the wake-up call you need.