How to Expose Your Roommate
COMMENTS

(0)

FILED UNDER: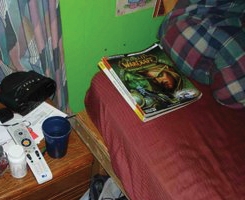 When Al Gore invented the Internet, his primary goal was to provide people with a forum in which they could talk s—t about one another behind a veil of anonyminity. Craiglist, Gawker, HoodTalk.org (NSFW, m'goodnerds)…great sites all, and just a few of the reasons Mr. Gore won the Nobel Prize.
Now, there's yet another revolutionary resource for all you poor souls forced to live with someone who is disrespectful, slovenly, or basically just a bit of a dick. On "My Roommate Is a Dick," people can post anonymous complaints about dishes left in the living room and prophylactics left in the kitchen. Here are some of my favorites:
The dick who never drinks any water

The dick who's always playing WoW (p0ned!)

The dick who deletes DVRed shows

The dick who takes mad vitamins
Interestingly, none of these dicks holds a candle (wonder what that would look like?!) to my brothers old roommate, who was not only an insane dick, but also literally old—he was a 60-year-old Azorian man descended from one of the last whaling captains on the high seas. The circumstances that brought these two together were bizarre but ultimately irrelevant to this tale. I will just leave you with one interaction that paints a portrait of the type of lecherous old man he was.
From: Brother

Sent: Monday, October 2, 2006 8:27pm

To: Gritz

Subject: Roommate
I come home after dinner tonight to this exchange:
"Hello Sir"
"Hello young man, feel good?"
"Yes."
"Your brother has called."
"Oh yeah, what did you tell him?"
"I tell him you are out with some girls. You are a good guy, you are not a queer."
"Thanks!"
Being Azorian and old does not give you free reign to be bigoted, good sir. Even if you are a bit of a dick…