How to Be the Bobby Flay of Summer
COMMENTS

(0)

FILED UNDER: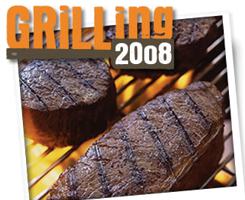 With Memorial Day just a few short weeks away, I can already begin to smell the glowing embers of a hot charcoal grill (though maybe that's because my neighbors are literally grilling right now). Summer barbecues are wonderful, not just because of the simple, back-to-the-earth feeling evoked by meat over an open flame, but also because of the range of foods you can cook. May is the perfect month to stock up on summer staples, take advantage of web specials, and get the party started early.
Here are some essentials to stock up on:
Sausages. By now it is obvious I love a sausage (no Rudy Gailindo). My favorite on the grill comes from New Brunfels, Texas (nbsmokehouse.com). Their Mexican sausage is spicy and stuffed with creamy mozzarella. Don't have a grill? No, problem, just toss 'em in tin foil and heat. Your good to go. Since these sausages are smoked (thus precooked), they are perfect for an impromptu midweek cookout.
Steaks. Loebel's in New York is hands down the top spot for mail order steaks. I'm a rib eye guy myself. Can't go wrong with five minutes each side on a hot grill, rest for ten. Delicious. If that isn't your scene, Loebel's has a cut for every taste, as well as an amazing selection of heritage pork that will blow your mind.
Hot Dogs. One name: Nathan's. Always have these on hand.
Buns. I like to go with a crusty french loaf for both hot dogs and sausage. It is also hard to beat the masterful potato roll.
Mustards. Buy a range. New Brunfel's has some good hot and sweet mustard. Jack Daniel's varieties are inexpensive. Coleman's English packs a real punch.
Ketchup. Generally, I find this disgusting, but people will want it. Have Heinz on hand, but also Tabasco's kicked-up variety.
Do you need anything else? Well, veggie dogs and burgers are for wimps, so don't bother. Keep steaks and sausage on hand all summer and you are always ready to be the king of the grill.
Wash down with a pilsner or Victory's Hopdevil.