Hosting Your First Dinner Party
COMMENTS

(0)

FILED UNDER: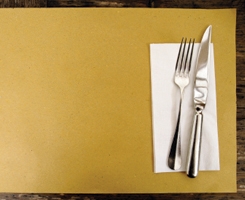 Your mission, should you choose to accept it, is to finally take advantage of having a real kitchen (so long dorm mini-fridge). You haven't even cut the price tags off your new kitchen gear, but it's time to take the plunge and throw a grown-up dinner party.
Plan of attack: Minimize stress and pull it off as if Martha Stewart was your sous-chef.
The Guest List
Less is more with a dinner party. Start with a small group of people who know you well enough to laugh about any mistakes. The new boss or potential love interest probably aren't ideal.
The Menu
When it comes to the menu, stick to what's familiar. It's okay to experiment with a new dish or two, but turn to the archives to ensure that you won't end up with a nosh nightmare. If you don't have a go-to recipe, sample a few dishes in advance to find one that you can easily replicate for a group. Think casseroles, lasagna, paella, and big batch food. Tacos, fajitas, and chili aren't graceful, but your guests will have fun customizing their portions. Just set out bowls of toppings and condiments and let everyone dig in.
Pot Luck is Okay
Nobody will enjoy your dinner party if you're stressing over every last detail. Don't hesitate to accept your guests' offers to bring dessert, wine, or hors d'oeuvres. These donations will minimize your kitchen time and make your guests feel helpful—the more time you spend with your guests, the better.
Prepare
Prepare as much as you can in advance. Blend up hummus, cut fresh vegetables for dipping, and get other pre-dinner munch materials squared away the day before the party. Measure out your ingredients in advance; by the time you're cooking, you should have every ingredient ready to go.
Drinks
Set out drinks, mixers, glasses, and ice in advance so that people can help themselves as they arrive. Keep non-alcoholic choices on hand for the drivers. Arrange the bar supplies where you'd like people to socialize, ideally near a seating arrangement and away from the kitchen.
Fine Dining
If you're ready for that next step, try a bit of tableside panache. Carve your meat tableside or flambé some bananas foster in full view. Nothing heats up a dinner party like fiery bananas. If fire's not your thing, you can keep the DIY theme alive with ice cream sandwiches using store-bought ice cream and homemade cookies for dessert. Another way to sauce up your dinner is to pair a wine with each course; ask at your local wine shop for recommendations based on your menu. Once the eating begins, you can consider this mission: accomplished. Just make sure to not spend all of your time in the kitchen—you and your guests will have a better time if you're at the table.