Holiday Decor in Your First Place
COMMENTS

(0)

FILED UNDER: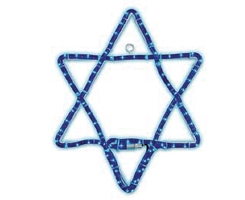 When it comes to holiday decorations in your own place, you may have to scale down from the Decembers of yore and go for something that captures the spirit without short-circuiting your apartment. Strive to hit a happy medium somewhere between your "Baby's First Christmas" ornaments and the classic, if tired, pooping reindeer. And farting Santa. And perverted elf.
First, get a tree appropriate to your square footage. Then, decorate with seasonally appropriate ornaments. Choose a menorah that appeals to your interests in Manishevitz (as well as the other 11 months of the year).
Next, string up some lighting that will set the appropriate holiday mood. Best your neighbors with the bar decor-meets-pious stylings of a rope light Star of David. Or, if you're one of those people that can't bring themselves to take down the Christmas lights before July, try the Lazy Man's Lights and never climb that ladder again! A central control box lets you change the colors from the comfort of your living room; now you can celebrate Halloween, Valentine's Day, and St. Patrick's Day with one set of lights. 'Cause everyone does that… (Can't afford the electric bill? Try a festive table lamp instead—nothing says Christmas like a fish-netted leg lamp.)
Don't constrain the cheer to your front porch, either. Spread joy all over the house. Especially when it comes to the toilet and the toaster.
But most important, of course, is the yard (if you've got one). This is the time to stake your claim to the neighborhood. To show your neighbors that your holiday zeal cannot be contained by walls. Try a six-foot dreidel, or even if you're Jewish, Santa on a chopper, just for the hell of it.
Now, start a fire, hang some mistletoe, and wait patiently for your new iPod.