Happy National Donut Day!
COMMENTS

(0)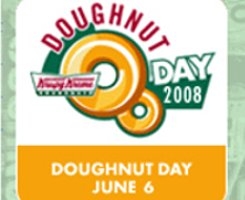 Get ye to a Krispy Kreme posthaste!
If you're wondering why I'm writing in such an archaic manner, it's because today is National Donut Day and I'm paying an homage to the most underrated treat around, the old-fashioned donut. Since back in the days when donuts were still called doughnuts, old-fashioned have been getting hated on for being "bland" and "dry." But today I will get one to ensure they don't become instinct, because the fact is a well-made old-fashioned is far more subtle and satisfying than a saccharine glazed or sprinkled donut.
Unfortunately, I may have to pay for the pleasure since there are no Krispy Kremes 'round these parts and Dunkin' Donuts "blew its load too early" with the iced coffee promotion. I hope your office hooked you up, though. If not you can try calling up the Department of Labor, but I think they've got bigger fish to fry.