HAPPY INTERNATIONAL CAPS LOCKS DAY!!!!!!!!!
COMMENTS

(2)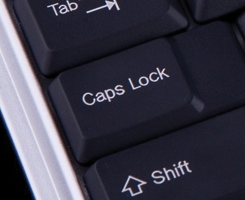 This post is republished from last International Caps Lock Day, October 22, 2007. DEAL WITH IT!!
HOW IS THIS DAY DIFFERENT FROM ALL OTHER DAYS
? TODAY IS INTERNATIONAL CAPS LOCK DAY!!!! A DAY ON WHICH IT'S OK TO TYPE LIKE MY MOM AND SEEM LIKE YOU ARE YELLING ABOUT THINGS THAT COULD BE CONVEYED IN A CALM AND RELAXED MANNER!!!!! IT'S JOKZ THO, INNIT!!!!!!!!
Ok, it may be INTERNATIONAL CAPS LOCK DAY, but it's also Monday and all that text-yelling is making me a bit tired. This "holiday" is one of those non-governmental, "Talk like a Pirate"-style things that people just make up, only it's celebrated exclusively on the Internet. Ergo, it's even more useless and ridiculous!
That said, there's a lot of fun to be had on ICLD. Here are just a few places to celebrate…
In the workplace…
Caps Lock in the office is about as appropriate as cleavage. Both scream, "LOOK AT ME, I'M MASSIVE!!!!" But today, it's totally acceptable to IM your boss and say, "DO YOU WANT A CAPS-UCCINO??" or blast out an email to everyone saying, "HEY GUYS, CAN WHOEVER LEFT YOGURT IN THE FRIDGE THROW IT AWAY? IT HAS EXPIRED!?" If anyone asks you why you are yelling, you can just refer them to this link, thus proving that you are "net savvy"—this is great, because "net savviness" is literally the only valuable skill that young people have to offer.
In a "World of Warcraft" chat room…
If you are unemployed or don't want to risk alienating co-workers, p0ne some n00bs in a WoW chat room, or go straight to Azeroth itself. These are great places for text-yelling, especially if LEROY JENKINS is knocking about. Alternatively, start a Second Life account and walk around yelling at "foreigners."
On a hip-hop related message board…
People always seem to be yelling on these. FIRST!!!!!!!!
In Microsoft Word…
Just open up a new document and yell! You don't even have to save it! Just write whatever you want and ask yourself, "IF I TYPE YELLING IN A MICROSOFT WORD DOCUMENT AND THEN DON'T SAVE IT, WILL ANYONE EVEN KNOW THAT, IN SPITE OF MY JOCULAR DEMEANOR, I AM SCREAMING ON THE INSIDE
?"