Guest Blog: Top 5 Ways to Spend Less During the Holidays
COMMENTS

(0)

FILED UNDER: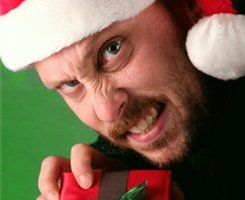 Christmas and Hanukkah are rapidly approaching and there are thousands of shoppers who plan on invading the stores over the next ten days to go shopping for the folks on their gift lists. If you're one of the unfortunate few who have hours of hectic holiday shopping ahead of you, you may want to keep the following money-saving tips in mind as you search for the perfect gift. Bear in mind that these suggestions are in no particular order and that any of these suggestions may rank higher on your personal list.
Shop Earlier! By far, the best thing that you can do to lower your expenses during the holidays is to shop earlier. Yes, there are Black Friday sales and Cyber Monday deals, but if you want to save the big bucks, then you need to start shopping. extra early. How early? Try the days following Christmas! After the holiday has come and gone, most retailers slash their prices up to 75% (and sometimes more) on holiday items. This is the perfect time to pick up next year's holiday cards and decorations at bargain basement prices. You can even stock up on some smaller, generic items like gift tags and bows. If done right, you can spend a few bucks at the local Wal-Mart and come home with enough of these minor items to last a few years - eliminating these costs for the foreseeable future.
Shop Smart. We are blessed to live in the age of the internet - so use it to your advantage! While it is unnecessary to make all of your holiday purchases online, doing so might save you some cash. The real money-saving lure of the internet, though, is the ability to "shop around" from the comfort of your own home. Use the internet to create a shopping strategy and to compare prices. Check to see if the electronics super store can beat the wholesale club or the big box discount store for the digital camera that your brother wants. Once you've found the lowest prices on all of your gift list items, map out a strategy for your shopping day. Remember, saving money also means eliminating redundancy in your traveling. There's no reason to spend more on gasoline because you didn't pre-map your shopping excursion.
Make a list. And check it twice! One of the textbook strategies to reduce your expenses at the store is to make a list of what you want to pick up at the store and stick to it. If you are going to a store to buy a specific video game or DVD set, then retrieve the item, pay for it, and move on to the next store. The longer you stay in one store, the more likely you are to pick up an extra few items. As an additional point on lists - be sure to ask those who are on your gift list what they want the most this holiday season. There's no use in buying Mom a new set of lamps for the living room when she really wants a new luxurious bathrobe and spa set from JC Penney.
Re-gift. I should have named this point "have no shame in your game" since that's the core point. Remember the under the kitchen cabinet combination CD player and radio that you won at the office party? Since you'll never have a use for such an item you may as well wrap it up and send it off to Aunt Tillie. The point here is that if you have unopened, unused items that you really don't want and are worthy of being given as a gift, then you can save considerable amounts of money by using the art of re-gifting. Be careful, though. You need to keep your re-gifting worlds separate. Take items that you receive from co-workers and give them to family members and then use items from family members as gifts to friends, etc. When re-gifting, always be sure to maintain a separation between your various social groups.
Pay in cash. While the economy continues tying itself into knots, the major financial institutions are becoming more restrictive with their credit card policies. Some people are waking up and finding that their interest rate has jumped while their credit limit has been decreased. If you are paying for your gifts in cash or with a debit card, then you do not run the risk of having to pay an increased interest rate over the next few months while the market figures itself out. Part of being aware of which items you can pay for in cash is understanding that you may need to restrict your spending this holiday season. In these uncertain economic times, it is important to keep your financial house in order. Sometimes, to keep your own house in order you need to restrict your spending - even during the holiday season. There's a strong chance that the people who are buying you gifts are doing the same thing.
These are just a few of the many ways that you can save some money this holiday season. When all else fails, though, remember that this season really isn't about fancy gifts or expensive trinkets. Family, friends, fellowship, and faith - those are the only things that most people need to enjoy the holiday season. And we're in luck because they all come free of charge!
Joe Palazzolo joins us from JerseySmarts.com, where he writes Joe's Journal. His student loan debt is so large that he was featured in a USA Today cover story about outrageous student loan debts.