Gradwatch on the NYT
COMMENTS

(0)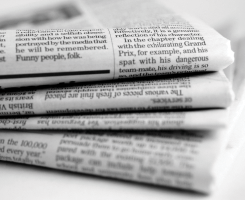 In another edition of "Gradwatch on the NYT," we troll The New York Times for grad-related stories that might have slipped through the cracks.
Five Basics for Building a Solid Financial Future
Rob Leibner explains how lays out five fundamental guidelines for managing your money, including a seven-word rule of thumb for smart investing: "Index (mostly). Save a ton. Reallocate infrequently." He also suggests automating all of bill paying and taking the time to consult with peers and online communities about financial decisions rather than relying solely on the "professionals."
Beating the Bushes for a Bargain Ticket
Even with airline ticket prices increasing alongside soaring oil prices, there are still deals to be had—you just have to know how to get them (and, more often than not, be flexible). Check this article out for links to some great sites that could help you save a bunch of money on a summer trip.
O.K., Avatar, Work with Me
Wii Fitness is seeking to send ripples through the (extremely casual) home fitness market by offering a fun alternative to those old Jane Fonda VHS tapes. Here, five guinea pigs test out the new game, which uses a "balance board" to allow users to play mini-games involving push-ups, yoga, and aerobics.