Grads Prefer Green Companies
COMMENTS

(0)

FILED UNDER: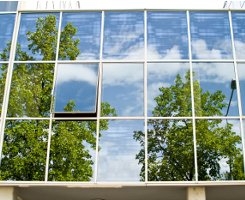 Going green is not just a WALL-E-watching trend anymore. A new survey conducted by career network experience.com shows that our generation overwhelmingly prefers working for green companies—those that are environmentally conscious and take their social responsibilities seriously.
The survey of recent grads and college students from across the United States revealed:
81% of them think it is important to work for a green company
84% are actively concerned about global warming and say that the green movement relates to their career choices
79% say they would be more likely to accept a job from a green company over another when offered two similar positions
A striking four out of five respondents said they want to work at a green company
16% are already working or interning at a green company
20% want more green product options
To help recent graduates find companies that care about the environment, experience.com recently launched Experience Green, an online community where environmentally conscious grads can search for job and internship openings posted by green employers. Check it out if you're serious about being eco-friendly; you're not alone.
Four Out of Five College Students and Recent Grads Prefer Jobs at Green Companies [via MarketWatch.com]