Going Green in Your First Apartment
COMMENTS

(2)

FILED UNDER: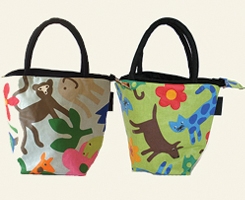 Now that even the Pope is offsetting his carbon emissions, if you aren't living green, you're not only behind the curve, but you may be sinning. Some tips can't be repeated enough: recycle, get a reusable shopping bag, pay bills online, buy compact fluorescent light bulbs. But after you head to Whole Foods in your Prius to pick up some organic milk, you need to rethink not only how you live, but where you live.
Even if your apartment is small enough to cool with a handheld fan, there are measures you can take to save the Earth and not feel so damn guilty. Start by furnishing smart. Organic mattresses, sheets, and towels are increasingly mainstream. Opt for recycled glass and bamboo dishes with cutlery made from potato starches. Clean up with eco-friendly household products.
Take it a step further by cutting down on your energy use. Certified Energy Star products can help the planet while saving you a lot of money. An Energy Star TV set can use 30 percent less energy than uncertified ones, and an Energy Star washing machine can save more water than one person drinks in a lifetime.
And heed the advice of people who have actually done research rather than "going with your gut." Experts suggest setting the AC to 78 degrees (an insistence on 72 degrees will cost you 39 percent more) and keeping the heat at around 68 during the day and 60 at night. The money left over after you pay the bill will do a lot to warm your toes. Unplug appliances like cell phone chargers when you're not using them—these "energy vampires" are still sucking down power. Wash all your clothes in cold water. Dump your desktop computer for a laptop. Install dimmers on your lighting. And so on.
Nearly every household process can be made a little greener. For more tips and reference guides, check out some of our favorite green sites: Apartment Therapy Green Home , the U.S. Department of Energy's renewable energy site, Blue Egg for all things sustainable in the media, National Geographic's Green Guide, and Green Home and Gaiam for green shopping from bike chain picture frames to recycled toilet paper.