Getting on the High Wire
COMMENTS

(0)

FILED UNDER: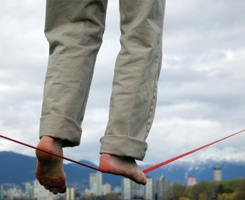 While searching for a job, I recently came across a survey that asked me to describe my current employment situation. Knowing that I could no longer tick "student," I came to a startling realization: I'm not "part-time," "full-time" or "other." I'm straight-up, undeniably "unemployed."
Actually, "unemployed" doesn't quite describe my current situation. Since moving to New York City two months ago after graduating from Arizona State University, my position has been part job-hunter, part freelance journalist, and part crazy, stressed out 22-year-old who has nightmares about being forced to live in a cardboard box in Times Square.
So why did I leave my family and friends behind and jet-set 2,500 miles from home to the City That Never Sleeps?
I blame it on Aaron Brown, the former CNN news anchor who spoke at my school's graduation ceremony in May. He told us the story of a family of trapeze artists who almost all fell to their death after taking risks on the high wire. When the patriarch of the family — the only person to survive the horrific accident — was asked if he'd ever perform again, he gave a surprising answer. "Of course," he said. "I won't let my fear of tragedy keep me on the ground."
Brown ended his speech by telling the crowd, "Now, it's time for you grads to get up on that wire."
Excuse me, Aaron? You want me, a girl who's afraid of heights, to do what now?
But when it comes to the metaphorical tightrope that Brown was referring to, I knew I was going to have to climb on if I wanted to succeed. For me, moving to NYC was a no-brainer: I want to be a magazine editor, and New York is the epicenter of all things media.
But now that I'm up on the wire, shouldn't I be scared that I'll plummet to my doom?
Don't worry: I'm sufficiently terrified. I'm paranoid that I'll never find a job. I'm worried that I'll be alone in a new city. Most of all, I'm afraid that I'll be a failure altogether.
But what are my other options? I could stay where my opportunities are limited. Or I could get up on the wire where I'll fight to balance, knowing that unlike the crazy, aforementioned carnies, I've got a safety net: my supportive friends and family back home.
So, greetings to those of you who are also pursuing your post-grad dreams despite your fears (and a special welcome to anyone who also burst into tears while checking "unemployed" on that damn survey). I hope that as I share the trials and tribulations of my first year after college with you on this site, we can learn from one other's experiences, have a few laughs, and find success along the way. We've got a lot of work to do to stay up on this wire, but I know together, we'll put on a hell of a show.