Fun Drinks from One Bottle of Rum
COMMENTS

(0)

FILED UNDER: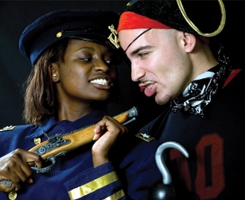 The Revolutionary War wasn't about liberty, freedom, and all that: it was about rum. Taxes on molasses — which the colonists distilled into rotgut — united the thirteen colonies, giving them the political force to rise against the British.
These early Americans drank a harsh rum, but you don't have to. The modern version goes down smooth, and it's still fairly cheap — as low as $16 a liter. White Rum blends well with many flavors and forms the basis of a number of classic drinks. Check out these great recipes to create an exciting cocktail party that will wow your guests and save you money.
Planter's Punch
1 tablespoon lime juice
1 1/2 teaspoons sugar
3 tablespoons white rum (1 1/2 ounces, or 1 jigger)

1/4 cup water
Thin slice of orange
Fill a tall glass with ice and add juice, sugar, rum, and water. Stir until the sugar dissolves and toss in the orange slice.
Mojito
12 mint leaves
1/2 lime
1 tablespoon sugar
3 tablespoons white rum
Sparkling water
Place the mint, lime, and sugar in a tall glass and mash with a spoon until the mint leaves are crushed and the lime has spent its juice. Add rum and mix well, then add ice and sparkling water to fill.
Rum Cosmo
3 tablespoons white rum
1 tablespoon lemon juice
1/2 teaspoon grenadine
1 1/2 teaspoons sugar
Fill a shaker (a thermos or Tupperware container works, as long as the lid fits tightly) with ice cubes. Add remaining ingredients and shake vigorously for at least 15 seconds. Pour through a sieve into a glass.
Fruit Daiquiri
1 teaspoon sugar
2 teaspoons lime juice
3 tablespoons white rum
Fruit of your choice: 1/2 banana, 4 strawberries or 2 tablespoons pineapple juice (or an equivalent amount of another fruit or juice)
Fill a blender one-third full of ice cubes. Add ingredients and blend until the ice and fruit are pulverized. Crush the ice first if your blender needs help.