The Frugal Traveler Does Europe
COMMENTS

(0)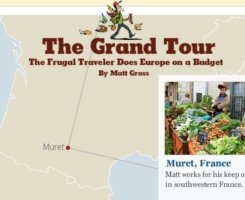 Since back in the days of Peter the Great, there have been few travel routes more coveted than a jaunt around Europe. It's a classic journey, no doubt. But who has the money? All those pints of bitter, baguettes, and barrels of oil really add up, especially if you still want to have enough left over to buy drugs once you get to Amerstdam.
This summer, The New York Times' Frugal Traveler is "reimagining the classic European journey" to bring it back to the masses. His budget is 100 euros a day, which according to my friend Greg is like $25. In reality, I think it's a bit more than that though, so the "budget" tag is relative—if you're a recent grad, just sub a hostel in for every accommodation recommendation and only eat once a day, at most.
Seriously, though—even if you aren't going to jet off to Europe, the blog is pretty cool and Matt Gross (aka The Frugal Traveler) puts up a post and some nice videos every Thursday documenting his trip and offering budget-friendly travel tips. He's already earned some extra funds working on an organic farm in southwestern France and eschewed the touristy vacation rentals on Craiglist Paris by using VivaStreet.fr and pap.fr.
The Grand Tour: Frugal Traveler Does Europe on a Budget [NYT]