French Toast and Bacon
COMMENTS

(0)

FILED UNDER: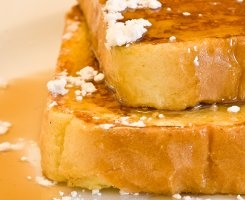 Breakfast is one of the first things that the gets lost in the shuffle of working life (not that you ate it in college). Sure, once or twice a month you and your friends might line up for an hour to visit that new "hot" brunch place. This might be "fun" and prove your city "savvy."
Instead of leaving these get-togethers thinking, "Gosh, I am so cosmopolitan and cool," you should say, "Why did I just waste money on food I can make." Indeed, brunch is ridiculous. However, it is nice to start your days off without the need for cleaning and worrying about stocking a refrigerator. There is another factor approach to these treats that is often overlooked…
Breakfast for dinner! Yes, it is a cliché. Yes, every diner tells you they offer it. Yes, you can make it at home!!!
French toast with a side of bacon (crispy, of course) provides the perfect balances sweet and savory. It is also rather variable and French toast does change in taste and texture depending on the bread used.
You Need:
Bread.
Eggs.
Cinnamon.
Bacon.
Butter.
Syrup.
To Make:
Cut two thick slices of bread per person. I like to use challah, though a baguette is also nice (Portuguese rolls are the bomb, too). For the coating, you will need to put about 1.5 eggs per slice in a bowl. Mix in some cinnamon to add color and great flavor. You may add sugar here, though if you love some syrup, it will not be required. Allow the bread to soak for a few minutes on each side in the mixture. Add to a butter skillet and brown on both sides. Boom, French toast is ready! Garnish with fruit if you want.
Now for the bacon. You can buy any old bacon at the grocery store, but you're saving hella loot by not going out so why not splurge a bit? There are loads of delicious bacons to choose from and it's really nice to have some good stuff in the freezer. Order from Nueskes in Wisconsin for quality apple wood smoking. The 6-month bacon club from Zingerman's is also awesome and would make a great addition to your Christmas list. Once you find you're favorite, you can really stock up.
When it comes time to cook the bacon avoid that microwave myth. It is gross. A skillet with press is great for getting it really crisp. Baking is also fine. Either way there is some potential for mess, but the result is always worth a little clean up though.
At the end of the day, dinner for breakfast is easy to prepare and overall, tastes great with the bottle of bubbly you've been harboring on the off chance Heidi Klum stops by.