FPF: Week of July 20
COMMENTS

(0)

FILED UNDER: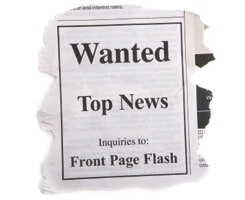 This week on Front Page Flash: Freddie and Fannie hit rock bottom, the economy continues to suck, Israel and Hezbollah compromise, and the infamous Banksy is revealed. Plus, election update!
US moves to bolster lending firms [BBC]
The share prices of two of the country's largest mortgage finance companies plummeted this week on fears that the firms would be unable to raise enough capital to continue backing mortgages and other loans. Together, Freddie Mac and Fannie Mae guarantee over $5 trillion worth of debt—more than half of all US home loans. Should these firms fail, then mortgage lending would dry up and the US housing market would implode, with global ramifications (i.e., shit hits the fan big time, and the country's homeless population triples). To prevent this outcome, the US government decided to bolster the firms by expanding their access to credit and by allowing the US Treasury to buy shares in the companies if needed.
Doom and gloom on the economic front
The major papers have been leading with depressing stories about how crap the economy is all week. We won't bore you with "interest rates" and all that jazz (we don't understand them either), but here are a few of the indicators that have made the headlines: the price of oil dropped $10.5/barrel over two days (while gas prices hit a record $4.11/gallon), consumer prices saw their second largest monthly increase since 1982, Citi Group posted a $2.5bn loss in the second quarter, and Starbucks named the 600 stores that it's going to close (ok, maybe that last one is not directly related). All around bad news bear…market.
Israel-Hezbollah Carry Out Prisoner Exchange [WSJ]
In a symbolic "swap" mediated by the U.N., Israel released five Lebanese prisoners and Hezbollah returned the bodies of two Israeli soldiers. The exchange has been 18 months in the making and has been a source of deep contention between the two sides since the 2006 war in Lebanon. The return of the soldiers had become a "national campaign" in Israel, and while tensions remain high, both sides have noted they are pleased to close this chapter in their history.
Graffiti artist Banksy unmasked ... as a former public schoolboy from middle-class suburbia [Sunday Mail]
Banksy, the world-famous street artist whose identity has remained closely guarded during his meteoric rise in the world of art and pop culture, has been unmasked, Scooby Doo style. Turns out he's not the James Dean-like figure many expected, but rather a Cory Matthews type from a middle class British suburb named Robin Gunningham. Banksy's paintings sell for millions (his graffiti is the rare type that actually increases the price of property), but now that he's been revealed, many wonder what will happen to the value of Banksy's work, what will happen to Gunningham (legally), and whether the renegade artist will continue to evade authorities in the name of art.
Election Update: Barack Obama refined his Iraq stance in a New York Times editorial—who needs pundits when you can get it straight from the horse's mouth! Meanwhile, another Gotham City publication—The New Yorker—sparked a media shit-storm with its controversial cover. In his continued efforts to court black voters, John McCain spoke in front of the NAACP on Wednesday. He has been in hot water with many members of the black community in the past, particularly when he voted against MLK Day being a national holiday (he has since apologized). Finally, USA Today ran an interesting poll on how the election might affect race relations.