FPF: Week Ending September 14
COMMENTS

(0)

FILED UNDER: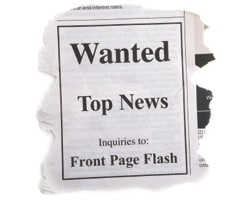 This week on Front Page Flash: Economic giants in need, Mugabe shares power, oil and sex (and drugs) don't mix, and goats get pardoned. Plus, election update!
Lehman Brothers, Freddie Mac, and Fannie Mae Most Recent Victims of Credit Crunch
As word spread that the Korean Development Bank was walking away from a deal to infuse Lehman Brothers with much needed capital to support its catastrophic losses resulting from the credit crunch, the company's stock took a nose dive. It soon rebounded on rumors that there are suitors around to buy the bank (or its assets), but today it finally put announced that it will put itself up for sale, and the government is trying to help it close a deal by the time that Asian markets open Monday. Earlier this week, mortgage giants (who represent the entire U.S. mortgage market) Freddie Mac and Fannie Mae were placed into a conservatorship to prevent a bankruptcy, which would drag dragging the entire market with it. As a result of being in a conservatorship, the government will guarantee the companies' debt and financial well-being. What this may do is get people comfortable with lending capital again to help improve the economy. But no matter how you skin this fainting goat, free markets are always better and government;s involvement with these falling giants is not a great sign.
Scandal at federal oil royalty collection agency [via LAT]
A several year-long investigation by the federal government has exposed rampant corruption within an Interior Department group responsible for collection royalties from oil and natural gas companies. The "cozy relationship between the energy industry and the Minerals Management Service" was driven by a "culture of substance abuse and promiscuity," as the head inspector put it. To get specific: sleeping with customers, heavy drinking and drug use at industry events, and inappropriate gifts/trips accepted by agency employees. The agency takes in $8 billion in royalties a year from energy-related leases (it's the government's largest source of nontax revenue), and the scandal provides another counterargument to plans to lift offshore drilling bans in places like Alaska (i.e., Sarah Palin's proposal).
Zimbabwe rivals agree to power-sharing agreement [via BBC]
President Robert Mugabe and opposition leader Morgan Tsvangirai have finally reached a power-sharing deal brokered by South Africa. The country has been in political deadlock since the elections in June, which were compromised to say the least. Quick recap: Tsvangirai won more votes than Mugabe, but not enough to avoid a runoff. However, he pulled out a few days before the runoff election, citing a campaign of intimidation and violence waged against his party (international observers tended to sympathize). The power-sharing agreement should open up doors for international aid to come in and help out with Zimbabwe's tattered economy (inflation is so crazy they recently issued a $100 billion note).
Water Cooler: Finally, Goats Freed from Congo Prison [BBC]
Deputy Justice Minister Claude Nyamugabo stumbled upon a herd of goats imprisoned in Kinshasa's main jail while reviewing the facility on a routine visit. The goats were charged and due in court for being sold illegally on the roadside. Recognizing the absurdity of the situation, he pardoned the goats immediately. We think the scene probably looked something like this.
Election Update: In the wake of last week's Republican Convention, Sen. John McCain saw a healthy bump in the polls, and the media's love-hate affair with Sarah Palin continued to dominate the papers. According to a new USA Today poll, McCain now leads Obama 50% to 46% among registered voters (thanks, white women!), and Barack's big lead on the economy has all but disappeared. A Washington Post poll puts the two candidates pretty much in a dead heat. But check it: there's 8 weeks to go in this race, and analysts are quick to point out that convention memories fade. Also, "shit happens," and no one's feeling that more than Barack this week after his "lipstick on a pig" gaff.