FPF: Week Ending May 25
COMMENTS

(0)

FILED UNDER: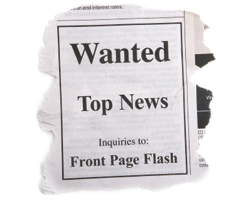 This week on Front Page Flash: Obama gets his majority, American Airlines turns the screws, Israel and Syria negotiate, Ted Kennedy is diagnosed, and Man U triumphs over Chelsea.
Obama Takes Delegate Majority (Washington Post)
Another week, another round of predictable primary results on the interminable road toward the Democratic convention. On Tuesday, Obama won easily in Oregon but was firmly beaten in Kentucky, where Clinton won by 35 percentage points. The significance of Oregon was that Obama finally gained a majority of delegates, sending a message to undeclared superdelegates that if they turn out for Clinton they will be going against the will of voters. In his speeches after the Oregon victory, Obama was careful not to declare himself victorious, but he told supporters at a rally in Iowa that "you have put us within reach of the Democratic nomination. Meanwhile, in a "behind-the-scenes" piece, The Washington Post reports that campaign staffers and fundraisers are preparing ways to coalesce behind a single Democratic candidate.
American Airlines to charge for checked baggage (Los Angeles Times)
In response to rising oil prices, America's largest air carrier announced drastic steps to "remain viable," including a $15 surcharge checking a single piece of luggage (and $25 for each additional bag). AA will also lay off thousands of workers and scale back its domestic flight schedule. Other airlines are expected to follow suit, so get excited for higher fares and more crowded flights this summer.
Israel Holds Peace Talks with Syria (NYT)
Israel and Syria began negotiations through Turkish mediators to broker a peace treaty, marking the first time the two countries have pursued serious peace talks since 2000. Israel is clearly seeking to isolate Iran (Syria's biggest ally) and curb the growing influence of anti-Israeli groups Hezbollah and Hamas (both of which are sponsored by Iran). Meanwhile, Syria would like to regain control of Golan Heights, which it lost Israel in the 1967 war, and to reestablish a relationship with the United States.
Ted Kennedy hospitalized after seizure (CNN)
Massachusetts Senator Ted Kennedy was hospitalized last weekend after suffering a stroke. He was discharged from the hospital on Wednesday and has been diagnosed with a malignant brain tumor.
Manchester United beats Chelsea 6-5 on penalties (BBC)
In a thrilling Champions League final in Moscow—the first ever all-England final in history—Manchester United trumped Chelsea. Cristiano Ronaldo put away a header at 26 minutes to put Man U ahead, but Frank Lampard equalized just before halftime. The two sides fought bitterly throughout the second half and extra time, and Chelsea striker Didien Drogba was sent off before the match went to a penalty shootout.
---
Front Page Flash: We don't report the news, we link to it.
We at Gradspot.com know how hard it is to stay on top of what's going on in the world. In order to help you out, we've created Front Page Flash, a weekly roundup of the biggest news stories that we think you should know about. We want to make it simple to soak up the top stories, and we want your feeback to figure out how we can make this service most useful to you. Send your questions and comments to fpf@gradspot.com.
---