FPF: Week Ending June 8
COMMENTS

(0)

FILED UNDER: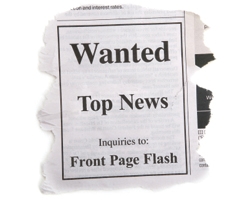 This week on Front Page Flash: Obama finally clinches, world leaders confront the food crisis, U.S. home for closures hit record highs, political corruption rears its head (per usual) in Zimbabwe, and Turkey overturns a ban on headscarves.
Obama Clinches the Democratic Presidential Nomination
Senator Barack Obama clinched the Democratic Presidential, becoming the first black candidate to lead a major ticket. As the long, hard-fought primary season finally came to a close, scores of superdelegates rushed to the Obama camp, and the results from the Montana and South Dakota primaries (Clinton won SD—as well as Puerto Rico earlier in the week—but it didn't matter) pushed Obama past the required 2,118 delegate threshold needed to claim the nomination. Senator Clinton has yet to officially resign from the race, but major news outlets are reporting that she'll end her campaign on Saturday and endorse Obama at the behest of supporters and Democratic leaders who believe there is a need to maintain party unity.
World Powers Meet to Discuss Global Food Crisis
Leaders from around the world attended a conference hosted by the UN's Food and Agriculture Organization focused on tackling worldwide food price increases that have triggered riots in 30 countries. Participants agreed on how to stem an impending hunger crisis – distribute aid to the hungry, provide farmers with seeds and fertilizer, scrap export bans, and more – but no one was able to agree on a specific plan and who would pay for it (a successful program is estimated to cost $30bn annually). In particular, discussions regarding biofuels and export restrictions created divisiveness amongst the attendees.
U.S. Home Foreclosures Hit a Record High
People lost their homes at the highest rate on record and late payments soared to new highs, both during the first quarter of this year. In addition, the proportion of homeowner's equity dropped to a record low since the end of World War II. These are alarming signs that the housing crisis and its damage to the national economy may only get worse. An influx of houses into the already weak housing market may further dampen prices, thus continuing a downturn in the market.
Opposition Leader and Foreign Diplomats Arrested in Zimbabwe
Ahead of an already tense June 27 presidential run-off between incumbent Robert Mugabe and opposition leader Morgan Tsvangirai, political intimidation by the ruling Zanu-PF party reached an all time high as Mr. Tsvangirai and several of his officers were detained by police for several hours on charges of attending a public rally. Later in the week, U.K. and U.S. diplomats were also held and then released on similar charges. This does not bode well for a free and open elections.
Turkey's High Court Overturns Headscarf Ban
The highest court in Turkey ruled that a legal change to allow women to attend universities wearing headscarves is unconstitutional. This is another effort by the political elite to maintain the secular nature of the state. It is also a slap in the face to the current Prime Minister Recep Tayyip Erdogan, who will learn later this year whether the court will bar him and 70 other members of his party from politics. His Islamist past frightens many in the country, yet he often claims that he will maintain the secular status quo.