FPF: Week Ending June 22
COMMENTS

(0)

FILED UNDER: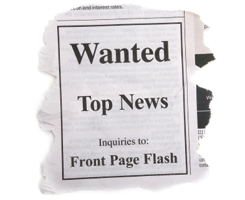 This week on Front Page Flash: Iowa reels from flood damage, Israel and Hamas try a truce, Ireland thwarts the EU, the UN calls rape a "war crime," and big oil returns to Iraq. Plus: the weekly election update!
In Midwest Floods, a Broad Threat to Crops [NYT]
Severe flooding, most notably in Iowa, has caused catastrophic damage for Midwestern farmers, who risk losing vast swaths of crops just weeks after planting seeds for the next harvest. The floods—the worst since 1993—have also created all sorts of other problems, including levees bursting in Missouri, thousands forced out of their homes across five states, and property damages in the billions of dollars. President Bush traveled to the hardest hit areas and promised disaster aid and help for farmers. With food prices at record highs, the disaster is a huge blow to American farming and will likely result in meat and grain price hikes nationwide.
Israel-Hamas Gaza Truce Goes into Effect [AP]
The truce is set to ease restrictions imposed upon the Hamas-controlled Gaza Strip by Israel in response to continued rocket attacks by Hamas and Hamas-affiliated militants. In three stages, the sides are to put an end to the continued violence in the region, Israel is set to re-open the Rafah border into Egypt, and Hamas is supposed to re-open negotiations to return kidnapped Israeli soldier Gilad Shalit. Keep an eye on this fragile truce as Israel claims it is the last chance Hamas has to avoid a major incursion into the Gaza Strip by the Israel Defense Forces. If this were to occur, it could have disastrous effects for the entire region.
Ireland Votes "No" on the EU's Lisbon Treaty [Reuters]
The EU was attempting to ratify for a second time a new constitution that would give EU leaders a long-term president, a more democratic decision-making process, and ultimately, the ability to continue to expand its member countries. This is significant because it underscores the fact that perhaps not all of Europe wants to speak with a united voice. During the recent global economic boom, the EU functioned relatively smoothly but the recent downturn has begun to expose some cracks. We'll now have to see if a revised version of the treaty will pass muster with the Irish public.
UN Denounces Rape as "War Crime" [AFP]
All 15 member-states of the Security Council, spear-headed by Condoleeza Rice, were unanimous in the decision to pass Resolution 1820 which "demands the immediate and complete cessation by all parties to armed conflict of all acts of sexual violence against civilians with immediate effect." Human Rights Watch (and we sincerely hope the whole world) welcomed this achievement for what they stated was an often-overlooked atrocity during wars and armed conflicts. Rice focused on Sudan and the Democratic Republic of Congo, where she highlighted the widespread acts of sexual violence.
Deals with Iraq Are Set to Bring Oil Giants Back [NYT]
Four massive oil companies—Shell, Exxon Mobil, Total, and BP—are set to put the finishing touches on contracts that will return them to Iraqi oil fields for the first time in 36 years (they were pushed out by nationalization of the oil industry during Saddam Hussein's rise to power). There is an extremely lucrative opportunity to drill in Iraq, and gaining access to the fields may be the best chance these companies have to increase production. However, speculation is already rife about how the move relates to the War in Iraq, especially since many suspected it was motivated by the desire to get at this oil.
Election Update: In the first week since's Clinton's concession, Obama and McCain got to focus on the beginning of what will surely be a long, hard-fought road to November. New polls dropped showing that both candidates poll equally well with independents—they like McCain for dealing with terrorism and Obama for domestic issues. In overall polls, Obama leads 48% to 42. In light of the Supreme Court's decision to intervene in the fate of Guantanamo Bay detainees, the two have spent much of the week butting heads over terrorism.