FPF: Week Ending August 31
COMMENTS

(0)

FILED UNDER: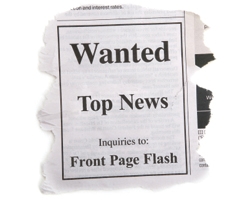 This week on Front Page Flash: Democrats annoint Obama, tension mounts in Georgia, the economy shows signs of life, and Google Earth makes scientists say "holy cow!" Plus, election update!
Democratic National Convention
So much preparation, so much hype. Did it live up to expectations? Who's to say, but it was certainly a spectacle. The nation's media and all the party heavyweights of the Democratic party descended on Denver to officially elect Barack Obama as the first African-American presidential nominee of a major party. Sen. Edward Kennedy, John Kerry, Michelle Obama, Bill Clinton, and Obama's veep pick Joe Biden each took the stage, but all the eyes were most keenly fixed on Hillary Clinton's address, in which she urged the 18 million people who voted for her to throw their support behind Barack. The whole lovefest culminated with Obama bucking "convention" to drop his keynote speech at Invesco Field in front of 80,000 people. He wove together all the major themes of his campaign with characteristic eloquence, but pundits noted that he spent a uncharacteristic amount of time on the economy, took a more critical stance against John McCain than usual, and focused more on issues. Watch the speech here.
Cold War Tensions Rise of Georgian Conflict [The Times]
Russia has ratcheted up the stakes in the Georgian conflict by publicly announcing the "independence" of the Georgian break-away regions of South Ossetia and Abkhazia. At the same time, Russia has also fortified position within the two regions, sending troops and naval warships. Meanwhile, the U.S. has sent aid to the Georgian port of Batumi via a Coast Guard cutter. The EU has now begun to consider sanctions against Russia's land-grab, and even assumed allies China have not backed Russia's actions. While there is no doubt that Russia's influence in the region is rising, let's hope this isn't the start of another protracted Cold War.
U.S. Economy Sees (Brief?) Economic Turnaround [Yahoo!]
Overseas exports buoyed the U.S. economy in the Spring quarter, driving quarter-over-quarter GDP growth of 3.3% -- significantly higher than analysts expectations. All gravy? Not quite -- foreign economies are now also facing slowdowns, which would in turn effect U.S. exports. The 3% bump is better than nothing, but even the White House admitted to not doing a victory dance. With the expected overseas slowdown, energy prices, and the continue housing woes, it may not be time to count those chickens just yet.
Water Cooler Story: Cattle shown to align north-south [BBC]
Everyone uses Google these days, even scientists. And while they were using Google Earth to see if they could spy on college girls tanning, they happened to notice something pretty weird going on with herds of cows and wild deer—they were all aligned north-south as they grazed. Many animals use the earth's magnetic fields as a sort of built-in "compass," but it turns out that after thousands of years of animal herding, no one ever noticed this behavior. Thanks again, Google!
Election Update: The Democratic Convention dominated everything, while McCain dangled his mystery VP pick like a carrot to any reporter who look his way. As of publishing time, we still don't know his choice. (The Republican Convention begins on Monday in Minneapolis.) Update: He chose Alaska Gov. Sarah Palin.
---
Front Page Flash: We don't report the news, we link to it.
We at Gradspot.com know how hard it is to stay on top of what's going on in the world. In order to help you out, we've created Front Page Flash, a weekly roundup of the biggest news stories that we think you should know about. We want to make it simple to soak up the top stories, and we want your feeback to figure out how we can make this service most useful to you. Send your questions and comments to fpf@gradspot.com.
---