FPF: Week of Aug. 3
COMMENTS

(0)

FILED UNDER: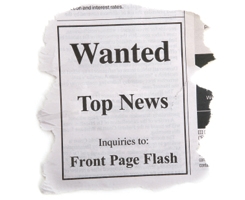 This week on Front Page Flash: Israeli PM resignation, Cali ban of trans-fats, Alaskan Senator scandal, and an insane bus decapitation in Canada. Plus, election update!
Israeli PM to Resign [AP]
Many Israelis have been been looking for any reason to oust current Israeli PM Ehud Olmert from office, and they will be appeased in September, the date the prime minister has set for his resignation in the face of fraud and corruption allegations (although he claims his innocence). This is important as it will impact both the Middle East Peace Process (will the Prime Minister rush to sign a deal with the Palestinian or will everyone view him as a lame duck delaying the process beyond the stated goal of achieving peace before 2009?) and Iran (several ministers within the Israeli government are saber-rattling while Olmert has taken a more moderate stance). Opposition leader Benjamin Natanyahu has called for national elections that could stall peace talks with Palestine for months.
Hasta la Vista Trans-Fats [LAT]
Health-conscious California governor Arnold Schwarzenegger passed a law last week forbidding restaurants in the state from serving food with trans-fats (aka the "bad" kind of fat). This ban comes as part of the governator's fight against obesity in California, and the new law requires restaurants to use oils with less than half a gram of trans-fat per serving by 2010. Trans-fats add to the shelf life of food and can preserve its flavor over an extended period of time, but studies have linked trans-fat to coronary heart disease, stroke, and diabetes. Schwarzenegger enthusiastically endorsed the law, claiming proudly that California is the first state in the nation to phase out trans-fats (New York City is invoking a similar ban). Who knows Arnold: today a healthier California, tomorrow the presidency?
Senator Charged in Scheme to Hide Oil Firm Gifts [NYT]
Alaskan Senator Ted Stevens, 84, the longest-serving Republican in the Senate, was charged last Tuesday with failing to report gifts he accepted from an oil services company. Mr. Stevens has long been a powerful force on Capital Hill, directing millions of federal dollars to Alaska and regarded by many Alaskans as a state hero. However, a federal grand jury in Washington charged Stevens last week with refusing to disclose more than $250,000 in gifts—including pimpin' renovations to his house in Alaska, a new set of wheels, and a collection of home furnishings—from 1999 to 2006. Mr. Stevens claims he is innocent and hopes to deny these allegations, yet the charges are bound to sound the death knell to his long career as a senator.
Satellite Radio Merger Approved [Washington Post]
Who listens to satellite radio? Apparently, not nearly enough people to satisfy XM and Sirius, the two "giants" of the industry who have been trying to join forces for the past year and a half. Many lawmakers, broadcasters, and consumer groups have opposed the merger on the grounds that it would create monopoly, but the governments approval is an indication of the tough times facing satellite radio providers as iPods and the 'net make it increasingly irrelevant.
Water Cooler Story of the Week: In what's being reported as a random attack, a young passenger was stabbed and gruesomely decapitated on a bus in Canada. Afterwards, the "robotic" attacker allegedly held up the head to taunt the driver and others who tried to check on the victim. This one's not for the faint of heart.
Election Update: The Obama World Tour came to an end and McCain swooped on the opportunity to grab some headlines again, most notably with a controversial attack ad entitled "Celeb." Claiming that Barack is "the biggest celebrity in the world," the ad features images of Britney Spears and Perez Hilton, followed by Obama speaking to a crowd of 200,000 people in Berlin. Despite disowning Ludacris this week for a tribute song he dropped dissing Hillary Clinton and McCain, Obama responded in typical rapper fashion, essentially telling his rival, "Keep my name out your mouth, son!" What does all tomfoolery mean? Who knows, but USA Today released a new poll this week showing some slight gains for McCain. Obama still leads 47-44 amongst registered voters, but 41 percent of respondents say he doesn't have what it takes to be president.