First Date Etiquette: Preparation
COMMENTS

(0)

FILED UNDER: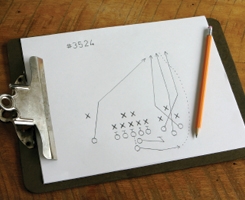 Between mixers, Toga Parties, and impromptu late night dorm room visits, landing a date in college wasn't that hard. With available hot young things all around, you may not have felt pressure to wow 'em and zow 'em on a first date. But finding a great date in the real world is a bit more difficult. So when you do, here's one part of how to make the first date count, and all but guarantee a second: plan ahead.
Mr. Smith's Opinion
Guys – preparation pretty much falls on your shoulders. So you've got her number? Now it's time to plan that first date. But this shouldn't be a chore. A little (yes, only a little) bit of prep work can be the difference between that "ass-out-all-too-uncomfortable hug" and the promised land (with everything in between).
So when planning ahead, remember that the first date is about her. Make her the center of attention and let her shine. First dates at state-sponsored dinners, engagements with celebrities, or at five-star restaurants are generally a bad idea. Instead, if she speaks Italian, a local trattoria where she can show off her linguistic skills is a perfect choice. If she loves art, take her to a museum, walk around and look at some street art, or get to a gallery opening. The point is: make her the focus, interact with her, and she'll open up.
It's also important to plan something for after the main event. Have an escape plan if things don't work out, but don't pull the trigger prematurely—let things evolve. After dinner, grab dessert somewhere special or pop into a local speak-easy. But remember, this part of your date should be about talking and getting close; bottle service and clubbing are for you and the boys.
Lastly, the age-old question: to kiss or not to kiss. Some would say this is more art than science, but I'm out of room and you'll have to wait till our next post.
Mrs. Smith's Opinion
Jon – this is one of the few times I'll agree with you. We ladies like nothing more than a guy who takes control (well, except for those of us who are into the S&M thing) in a confident and not cocky way. So men, do yourselves a favor—plan ahead. Women – sit back, be taken care of, and decide if he deserves a second date.