Feed Me, Feed Me: The Best Late-Night Food Spots
COMMENTS

(0)

FILED UNDER: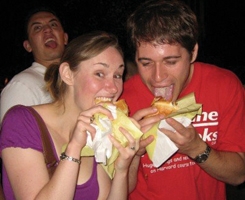 In a slap in the face to the recent grad demographic, San Francisco's Planning Commission announced a few months ago that it will try to force local pizza places to close before the post-party crowd rolls in. This attempt to stymie public displays of drunken hunger may help reduce neighborhood noise, but it is a blow to our collective spirit (and to the collective cravings induced by drinking spirits). In a small but passionate act of defiance, I bring you suggestions for the best late night spots in a few cities across this great nation of late-night food freedom.
Seattle
For an inexplicable reason, Seattle has commandeered cream cheese as one of its official foods (it goes well with salmon?). Though it's clearly called to duty in sushi's Seattle rolls, the true Seattle cream cheese combo experience can be found at the city's late night hot dog spots. Stands like Hot Dog Joes on the corner of 1st Ave and Blanchard in Belltown, Dante's Inferno Dogs in Ballard, and the spot so indie it is known only as "The War Room Cart" in front of the War Room club on E Pike Street in Capitol Hill, serve a surprisingly—and sometimes transcendently—delectable combination of a hot dog with cream cheese and grilled onions. Generally open only on Fridays and Saturdays after 10 or 11PM, the hot dog carts know their audience, and they do an amazing job at feeding the cravings of many a late-night crowd.
Washington, DC
Personally, I like Ben's Chili Bowl because it was founded on my birthday—albeit 26 years before my birth—but DC folks (who I will assume were not all born on August 22), love it for its chili, hot dogs, and shakes. Also, the fact that J. Holiday goes there. With an incredible history including race riots, jazz legends, activism, major construction projects, and more recently gentrification, this spot in northwest DC's Shaw neighborhood is one of four restaurants in America to win the James Beard Foundation's 2004 American Classic award for its "timeless appeal." And, indeed, its hours are almost timeless, as this late night favorite is open until 2AM Monday-Thursday and 4AM Friday and Saturday.
Chicago
Though Ferris Bueller once claimed to be the Sausage King of Chicago, late night junk food aficionados give the crown to The Wiener's Circle, a ramshackle hot dog restaurant in Lincoln Park. Located at 2622 N Clark Street and open until 4AM, the Wiener's Circle specializes in classic Chicago hot dogs and some of the best fries (and cheese fries) in the city. The service is terrible—as should be expected from any reputable late night food spot—but the food is clearly worth it. You may even end up in line by Vince Vaughn, David Schwimmer, or Barbara Streisand, all of whom have sung The Wiener's Circle's praises.
Pittsburgh
When it began as a stand in the 1930s, Primanti Brother's Restaurant redefined the term "meal on the go." By stuffing french fries, cole slaw, and tomatoes into a sandwich already full of your meat of choice, this 24-hour sandwich shop provides a full meal that can be eaten without the hassle of irritants like silverware or plates. Legend claims that the restaurant's original purpose was to feed the truckers who needed a pick-me-up in the middle of the night and the Depression-era construction workers who needed one meal that could tide them over for the entire workday. Today, Primanti Brother's has expanded into several locations throughout Pittsburgh, but the original shop still stands in the Strip District on 18th Street.
They can take San Francsico's pizza hours but they will never take our late-night freedom!