Federal Student Debt Interest Rates Slashed by 50% Today
COMMENTS

(0)

FILED UNDER: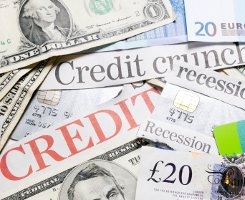 With gas prices, unemployment, and inflation all on the rise, recent graduates could really use a financial break. Well, today's the day. Thanks to the economy's Lohan-like bender, the interest rate for federal student loans plummets today, July 1st, from a weighty 6.62% to a wispy 3.62%.
Ready to bust out the fireworks? Not so fast. You need a lot of ADHD ducks in a row in order to qualify for this amazing low rate. Here's how to figure out if you can take advantage:
Take inventory of your loans
Unfortunately, the 3.62% rate only applies to variable-rate federal loans issued before July 1, 2006. Any federal loans issued past that date carry a fixed rate of 6.8%. The good news: As 2008 spring graduates, most of us borrowed before July 1, 2006 for our freshman and sophomore years. Can't remember that far back? No worries—you can take inventory of all your loans by visiting the Department of Education's National Student Loan Data System.
Don't drag your feet, though. The new lower rate is only on the table for six months after graduation. If you consolidate after that period, you'll pay a slightly higher rate of 4.25%.
Consolidation is like a one-night stand
How so? You do it once and never look back. So, if you've already consolidated your federal student loans, bad luck—you can't re-consolidate for the new low rate.
On the bright side, you can still enjoy some of the benefits that came with your original federal student loans, such as payment deferment, graduated payments (which rise over time), or income-sensitive plans that base your monthly payment on what you currently earn.
Also, by signing up for automatic payments from your bank account, you can shave .25% off your interest rate for the life of your loans and avoid late payments. Not too shabby.
The Manhunt for a Lender
In years past, you'd have lenders shedding blood for your business. But thanks to the credit crunch, consolidation loans are no longer profitable. In fact, you'll sooner find your soulmate than a lender for your consolidated loans. Even Sallie Mae, the best-known student loan provider, has bowed out of the market.
So where can you turn? Look no further than Uncle Sam. The government's Federal Direct Loan Program is any borrower's best bet for a consolidation loan. More information is available here.
Also, keep in mind that because the government's program is largely the only game in town, it'll be swamped with applicants. So, waste no time in getting the process started.
Good luck!