Essential Post-Grad Social Skills
COMMENTS

(1)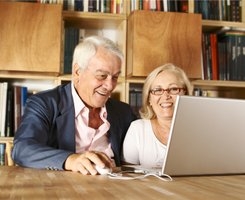 Today's guest post is from Vince at Scordo.com. Click here to subscribe to his feed.
A recent article in the New York argued that we could learn a lot by watching the social habits of babies. More specifically, Angier suggested that the social skills of infants are at the core of what make us human:
"...a baby promotes many of the behaviors and emotions that we prize in ourselves and that often distinguish us from other animals, including a willingness to share, to cooperate with strangers, to relax one's guard, uncurl one's lip and widen one's pronoun circle beyond the stifling confines of me, myself and mine."
This got me thinking about the benefits of getting along with people and having good social skills, in general. Individuals who are "good with people" usually work well with groups, empathize with others, and try to put themselves in other people's shoes so they can figure out what others are thinking and feeling.
Here are five advantages associated with having good social skills:
1. More Relationships - Identifying with individuals leads to both relationships and, at times, friendships. And, as most people know, you can't advance very far in life without being able to leverage relationships. Focusing on relationships will help you land a job, advance in your job, make new friends, and give you a better outlook on life (a large social network equals satisfaction with life).
2. Great Communication Skills - Relating with people and being able to work in large groups helps develops one's communications skills. After all, you can't have great social skills without good communications skills and, in my view, being able to convey one's thoughts and ideas maybe the single most important business skill of all time.
3. More Efficiency - If you're good with people you can probably avoid being with the people you don't like very much. For example, many folks dread social interactions because they don't want to spend time with individuals who do not have similar interests and viewpoints. So, if you're at a business get-together and don't want to spend time with Joe because he can't help you close a particular deal, a great set of social skills will allow you to politely convey that you need to spend time with other folks at the get-together.
4. A Better Career - Most worthwhile jobs have a people component and the most lucrative positions often involve a large amount of time spent interacting with employees, media, colleagues, etc. It's a rare individual who can isolate himself in his office and still excel in his or her job. Most organizations are looking for individuals with a particular skill set and the ability to influence people to get things done.
5. Increased Quality of Life / Happiness - Getting along with people will open up many personal and career-related doors. Striking up a conversation at a work-related conference may lead to a new job offer with a higher salary, or a smile and hello at your local tennis club may grab you a new tennis partner! It's also been widely acknowledged that retirees with a large social network have a higher level of happiness during their later years, versus depressed and lonely 60-somethings who spend the majority of their free time watching TV with little or no social activities planned.
When Vince isn't giving advice on social skills for recent grads, he is the author of Scordo.com, a blog focusing on practical life tips, saving money, how-to's, and the occasional recipe. He created the site to share his life experiences with managing money, a home, and a life. To read more of his posts, click here to subscribe to his blog.