Easy Pasta Dishes
COMMENTS

(0)

FILED UNDER: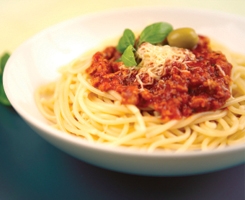 By now, the lazy days of college have faded into the past, taking with them frat party keg stands, sketchy mystery meats, and the ubiquitous Easy-Mac. Good riddance to the skeezy parties and mystery meats, but there is definitely something to the idea of a quick and easy pasta dinner. Fortunately, you can whip up dozens of delicious pasta dishes using just a few key basics.
Everyone should have a classic, easy tomato sauce recipe ready to go. If you're really organized, you can make a big batch of fresh tomato sauce in the summer while tomatoes are plentiful, then can or freeze what you won't immediately use.
Once you have the basic tomato sauce, it's all downhill. You can trick it out with any number of accoutrement. Of course, meatballs are an obvious choice. If you're not up to cooking them, Trader Joe's makes frozen meatballs in beef, turkey or vegetarian varieties. Sausage, grilled chicken, shrimp, and fresh vegetables like eggplant will jazz up any tomato sauce pasta as well. You can spice the sauce up with crushed red pepper flakes, add the caramel flavor of roasted garlic, or mix in capers and olives to make puttanesca sauce. My favorite way to spruce up tomato sauce is to add a little booze for penne a la vodka. It's the gourmet equivalent of beer-battered pancakes. When you're tired of pasta, use the sauce on eggplant Parmesan, over chicken breasts, or in your own meatball sub.
For non-nut allergy sufferers, pesto is definitely a solid topping since it's basically a one-pot affair. Toss basil, olive oil, garlic, pine nuts, and a bit of Parmesan cheese into a food processor and you're good to go. This is particularly good in summer, when fresh herbs are plentiful. Mix in chicken, asparagus, or even leaves of arugula. When you're not digging pasta, pesto tastes great with roasted vegetables, grilled fish, or chicken. It's also tasty in a grilled cheese sandwich and will add great garlicky flavor to any vegetable soup.
For the mystery third option, keep it easy. Invest in good ingredients that will lend extra flavor to a dish as simple as cacio e pepe (cheese and pepper) pasta. All you need is quality cheese, fresh ground pepper, and olive oil. For spaghetti carbonara, use artesanal bacon and it will shine.
Once you've got your sauces under your belt or at least on the stove, the noodles are the easy part. You can go basic with linguine or spaghetti or really take your pasta to the next level with bucatini or orecchiette. Some people genuinely enjoy mushy pasta— to get the just-tender al dente consistency, cook it on the low end of the package instructions or toss a noodle at your wall. If it sticks, it's ready to go. Mix in your sauce, serve it up, and leave all memories of instant cheese powder pastas in the dust.