Easy Nachos, Pt. II: Stadium Style
COMMENTS

(1)

FILED UNDER: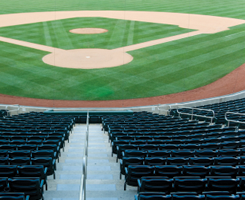 For many, the introduction to the world of nachos comes in the stands. Stadium nachos may not be the best, but cheering on a favorite team while clutching a plastic tray of chips covered in bright orange cheese sauce is a rare treat.
Interestingly, it is through sporting events that nachos made their way into the American consciousness. After inventing that goopy cheese that always remains in liquid form, an entrepreneur named Frank Liberto started selling nachos as a concession item in 1977 at the Arlington Stadium in Arlington, Texas. The new stadium snack attracted the attention of "Monday Night Football" later that year. Before the game started, Howard Cosell sampled the cheese-covered chips in the reception area. According to legend, he was so impressed that he and the rest of the "Monday Night Football" team began to mention nachos in their broadcast as much as possible.
Crunchy and zesty, stadium nachos changed the landscape of the sporting concession, American bar food, and basically laid the ground work for Taco Bell.
Most of us have moved on from the rather gross cheese sauce and stale chips combo found in sporting venues. However, transferring the basic ideas behind these simple nachos and adding a little bit of inspired home cooking, it's easy to bring a fun version of a classic sports food to your home for March Madness without sacrificing quality. You will be satisfied, your friends will be impressed fueled, and, with any luck, your pool will remain intact as you scarf these down.
You will need:


1/2 onion diced


2 jalapeños diced


2 tbs. flour


2 tbs. butter


2 cups milk


3 cups grated cheese


Salt


Pepper


Cayenne


To make the cheese sauce:
Melt butter in a saucepan, making sure not to brown. Add in flour and mix until lumps are removed. Bring in the milk, onion and jalapeños. Simmer on low for 10 minutes. Season with salt, pepper and cayenne to taste. Reduce heat to lowest level. Fold in cheese, making sure in is all melted. If the mixture is not thick enough for you at this point, hell, add some more cheese. Taste and re-season as needed.
Place chips on platter and liberally cover with your cheese sauce. Enjoy the game, your friends, and a Miller Highlife.