Easy Nachos, Part IV: Pub Nachos
COMMENTS

(0)

FILED UNDER: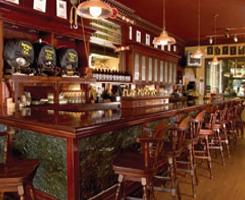 Somewhere, somehow, the nacho eclipsed its humble origins in Mexico to become a staple of American bar food. How this happened, and how the nacho (in my mind) eclipsed the potato skin as America's favorite cheese topped finger food, is a subject ripe for exploration. But Gritz says that is for another time and place (i.e., NachoHunters.com). What we can all agree on, without any empirical data or sound research, is that the nacho has reached a pinnacle of sorts in the pub setting.
During my college years at the University of Wisconsin, countless Sunday afternoons were spent comfortably ensconced in a local Madison bar, fresh beer in hand, eagerly awaiting a massive portion of nachos. There was some tension in this wait. I lived with two large and seasoned eaters, and one misstep or even a quick breather meant loosing out on a prime chip.
My favorite Madison haunt is the Great Dane Pub. Not only does the place offer the best hand drawn ale on the Isthemus, but its "Nakoma Nachos" are among the best the pub world has to offer. Freshly made tri-color chips loaded with a mix of cheddar and jack, jalapeños, and black olives, topped with salsa, sour cream and guacamole— these were great nachos. Never did the staff miss a beat, the layering was always top nacho, and from first chip to last there was not a single opportunity to sing that famous Rolling Stones song. You always got what you wanted.
Making pub nachos at home requires very little work. The ingredients are basic and the only real key is to just pile them high and bake until the cheese has reached the perfect bubbling brown. Grilling chicken breasts (or sautéing) whole and then dicing is the best way to prepare meat for the nachos, and spicing it up with a good rub is highly recommended. This is my ode to the "Nakoma Nacho."
To pretend you are at the Great Dane, you need:
* Tricolor Chips
* 1 lb of mixed grated cheese
* 4 jalapeños (I personally like them sliced fresh, but you could buy a jar of pre-sliced)
* Sliced black olives
For the w/ chicken option:
* 2 chicken breasts
* Your favorite BBQ rub
How to build your nachos:
You know the basics by now. Pile up your ingredients—extra high, these are PUB NACHOS—and bake until bubbling and brown in a 350 degree oven. If you choose to use chicken, I think it is best to grill the breast in advance and let cool, then dice.
Pair with a pint of Fuller's ESB or a classic Wisconsin beer from New Glarus Brewing Company, and the day is yours.