Easy Nachos, Part I: Chorizo
COMMENTS

(0)

FILED UNDER: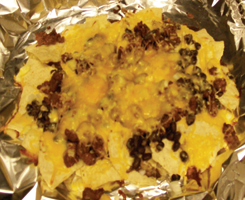 The other day my brother texted me the following question: "What delicious food should I make?" The response, a key to survival in this crazy world, was simple. "When in doubt, nachos."
We have previously established that this rule doesn't always work in England. But if you take matters into your own hands, it's tough to go wrong. Over the next few weeks I will be presenting a series of strong nacho ideas. Good for a meal. Good for a snack with guests. Good for the night your girlfriend says "no" and you need some solace. Nachos are versatile, cheap, and culturally intriguing (Mexican, Tex-Mex, or bar food?).
Let's begin with a nice little recipe that's hearty, satisfying, quick, and full of big flavors. Chorizo makes nachos much more exciting than ground beef. Obviously chorizo is full of seasoning from the jump, and it cooks up quickly so your meal is ready to go in minutes. Add some black beans and some chopped onion, and things are on and popping.
You Need:


1/2 onion diced


1/4 lb. ground chorizo (or two chorizo sausages, casings removed)


1/2 can black beans, drained


6-8 oz. grated cheese (I think a blended cheese is best for nachos... a little cheddar, jack, and queso blanco makes for an awesome melt)


Tortilla chips.


How to Build Your Nachos
Preheat oven to 350. In a skillet, brown the chorizo. While you are cooking the chorizo, layer a good amount of chips on a baking sheet. Spread onions and beans evenly over the chips. When chorizo is cooked, sprinkle it onto the chips as well. Take cheese and cover liberally (it's tough to overestimate the amount of cheese you need to fully cover nachos). Bake until cheese is bubbling and has browned ever so slightly.
The beans will add a nice creamy texture against the spiciness of the sausage, while the onions add a great bite. Serve with your favorite salsa, sour cream, and, if your feeling ambitious, some fresh guac.